Allstate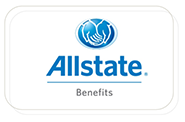 Working with 44North, MACSC is now offering additional voluntary insurance coverages for county employees through AllState Benefits.
Allstate Benefits is a leading provider of voluntary benefits on accident and critical illness coverages servicing the needs of employers with work forces ranging from three to 1 million. Allstate Benefits is committed to providing superior products and services using cutting-edge technology, exceptional customer service and passionate claims administration.
Accident
The Allstate Benefits Accident plan includes the following differentiating features:
• Guarantee Issue coverage is available to the employee, spouse and children at each annual enrollment period.
• Coverage is portable at the same benefit level and premium amount.
• The plan includes uni-tobacco and uni-age rates.
• Premiums do not increase as the employee ages.
• The annual Outpatient Physician's Treatment Rider can be utilized for non-accident related doctor visits.
No specific test required for reimbursement. Doctor visit can be for wellness, preventative, sickness or accidents.
• The Dislocation and Fracture benefit pays 100% for Employee, Spouse and /or Child.
• Sudden and unexpected reactions to foreign substances, including food poisoning are covered.
• Policy covers allergic reactions to such things such as bee stings, poison ivy, and adverse reactions to medications.
• Express claims filing for Outpatient Physicians Treatment benefit. Can be filed MyBenefits website, without any paperwork! Payment as quick as 48 hours.
Critical Illness
The Allstate Benefits Critical Illness plan includes the following differentiating features:
• Guarantee Issue coverage at the time of initial eligibility. This means no medical questions. Employees are able to purchase up to $20,000 face amount and up to $10,000 for spouse/children at guarantee issue..
• No requirement to have the medical plan in order to participate.
• There is no waiting period for the initial Critical Illness event
• There is no plan reduction in the 1st year of the policy or at any age.
• There are 16 different conditions that are eligible for benefit payout.
• The plan allows for the insured (s) to receive a payment for each covered condition up to a 1400% payout on the plan.
• Rates include a waiver of pre-existing conditions (diagnosis would still need to be after the effective date).
• Coverage can remain in force, with no age limit, while an employee is actively at work. Continuation of coverage after an employee leaves employment is available to the later of age 70 or 3 years, after you leave employment, whichever is later of the two.
• Policies port at the same benefit level and the same premium amount.
• Premiums don't increase with age.
• The 100% Recurrence Benefit allows the insured to receive a second payment for previously paid diagnosis of either an Initial Critical Illness Benefit or Cancer Critical Illness benefit.
• $50 Wellness benefit for any covered individual on the plan that has one of the 23 different Wellness tests listed in the policy.
• Express Wellness claims filing. Can be filed on the MyBenefits website. No paperwork needed. Claims payment can be as quick as 48 hours!
Please contact 44North today to schedule a no pressure consultation for your county and its employees!
Visit 44N.com or contact Noel Parsons at nparsons@44N.com or 855-306-1051.
Allstate Voluntary Accident Benefit Coverage
AllState Voluntary Accident Benefit Case Example