2023 MAC Policy Summit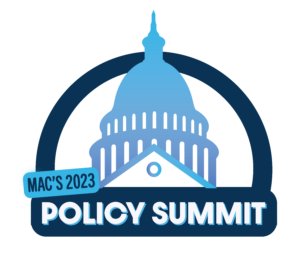 A MAC-commissioned report on the services that counties provide to other local governments will be reviewed at the MAC Policy Summit set for Dec. 7, 2023 at the Kellogg Hotel and Conference Center on the campus of Michigan State University in East Lansing from 9 a.m. to 2:30 p.m. Parking, continental breakfast and lunch are covered for in-person attendees. Cost: $50. 
In addition to the services report, the event will include presentations on:
The effects of juvenile justice reform legislation
The ongoing challenge of providing health care to county jail inmates
Proposals to create a statewide septic code
This event is offered in-person and via Zoom Webinar. Please note, however, that digital access
will be viewing only, not interactive.
Deadline to register is November 30

Schedule at a Glance
Thursday, December 7, 2023
9:00 AM | Registration with Continental Breakfast
9:30 AM | Welcome Remarks
9:40 - 10:40 AM | County Services on Behalf of Municipalities
MAC commissioned a survey of Michigan's 83 counties to get a better idea of how many traditionally local services are provided by counties on behalf of municipalities. The results of this survey and it's implications will be reviewed, discussed and analyzed so that commissioners across the state can better understand what counties are doing to serve Michigan's resident.
10:45 - 11:45 AM | Michigan's Justice for Kids and Communities Legislation: What Can Counties and Courts Expect?
With the recent legislative action taken on the Justice for Kids and Communities bill package, a result of the recommendations provided by the Michigan Task Force on Juvenile Justice Reform, counties and courts are facing changes to their roles in our state's juvenile justice system. From Child Care Fund changes, to expansion of the Michigan Indigent Defense Commission, the juvenile justice system will experience a massive overhaul in 2024.
11:45 AM - 12:15 PM | Lunch (included with registration fee)
12:15 - 1:15 PM | Local and Federal Solutions to the Medicaid Inmate Exclusion Policy
The Federal Medicaid Inmate Exclusion Policy (MIEP) poses burdensome costs on counties, revoking federal health benefits for adults and juveniles that are being housed in local jails prior to conviction. Bipartisan legislation has been introduced in Congress to amend the MIEP, and efforts are being made at the county level to alleviate this burden on our jails.
1:15 - 2:30 PM | A Response to Michigan's Aging & Failing Septic Systems
Join this session for a deep dive into the proposed statewide septic code legislation. Skip Pruss, Senior Legal Advisor from For Love of Water, and Norm Hess, Executive Director for the Michigan Association of Local Public Health, will offer a balanced discussion on the logistics of implementing a statewide septic code, what other states are doing, and how Michigan's residents and waterways would be impacted.
2:30 PM | Adjournment
Hotel Information
Kellogg Hotel and Conference Center, 219 S. Harrison Rd., East Lansing. Please contact the hotel by calling 800.875.5090.
Book your guest room today at a MAC discounted rate of $135.00 per night. This special discounted rate ends November 6, 2023.
Questions? Contact Tammi Connell at connell@micounties.org