County Commissioner Academy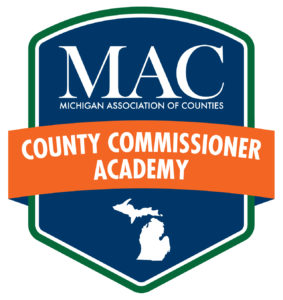 County Commissioner Academy is a professional development program for commissioners incorporating a series of events and workshops focused on the day-to-day responsibilities of a Michigan county commissioner.
In true "if-it-ain't-broke-don't-fix-it" fashion, the academy integrates the numerous learning opportunities MAC has offered for years into a coherent "curriculum" for commissioners. Budgeting. Taxes. Board procedures. Managing debt. Liabilities. Public access laws. For every facet of a commissioner's job – and we all know how plentiful those are – there will be "classes."
CCA operates on a two-year sequence, starting after an election. Participants earn continuing education "hours" by attending designated events and workshops. "Certification" is offered at two different levels: "Certified" is reached at 10 hours over a two-year cycle, while "Advanced" is reached with 20 hours over a four-year period. "Hours" will not be limited to MAC events. Commissioners can earn credits via attendance at MSUE-sponsored events or even sessions hosted by the Treasury Department or elsewhere.
CCA-qualifying sessions
2023
2022
2021
2020
New Commissioner Schools
MSUE Budget Webinar (fall 2020)
NACo High Performance Leadership Academy (year-round)
Virtual Annual Conference: Workshop on "Cybersecurity: Threats, Prevention and Preparation"
Camp Counties Summer Webinar on "Planning and Winning Millage Elections in a COVID World"
Virtual Legislative Conference: Workshop on "Economic Development and Tax Base Growth Strategies"
Virtual Legislative Conference: Workshop for Board Chairs/Vice Chairs on "Leading Your Board Toward Extraordinary Governance"
2019
Legislative Conference: Workshop on "Running a Better Meeting"
Regional Summits: Session on "Planning a Capital Improvement Program"
Annual Conference: Workshop on "Open Meetings Act"
2018
CCA 'Hours'
For more information about CCA, contact MAC Communications Director Derek Melot at melot@micounties.org or 517-372-5374.
MAC appreciates the partnership of MSU Extension in developing and operating the academy.