Conferences
2020 Annual Conference videos now available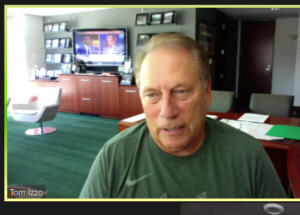 "All of us are role models," Michigan State University basketball coach Tom Izzo told county leaders gathered for a special session Aug. 20 of MAC's 2020 Virtual Annual Conference. "You gotta give back some things. I look back and I see I have a responsibility, which is a privilege, not a burden."
See all of Izzo's keynote remarks in this video from MAC's YouTube channel.
Other videotaped sessions include:
MAC appreciates the support of sponsors for this year's Annual Conference:

Lake Michigan
Blue Cross Blue Shield
Enbridge
Lake Huron
Lake Ontario
Lake Erie
---
Camp Counties webinars still available for viewing
With in-person gatherings still discouraged, but the need to share information and best practices never more acute, MAC responded with a new educational series for summer 2020: Camp Counties. Replacing our traditional in-person Regional Summits, the webinars of Camp Counties were recorded for post-event, on-demand viewing on our website.
---
MAC Conferences
April 27-29, 2021
Legislative Conference
(with MCMCFC)
Lansing Center/Radisson, Lansing
Sept. 26-28, 2021
Annual Conference
(with MCMCFC)
Grand Hotel, Mackinac Island