Conferences
Register now for 2020 Virtual Annual Conference, featuring MSU's Tom Izzo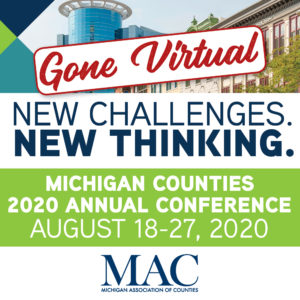 A special address from legendary Michigan State University coach Tom Izzo will be one of the highlights of the 2020 MAC Virtual Annual Conference, which will include events on days between Aug. 18 and Aug. 27.
Izzo will address the President's Gathering scheduled for Aug. 20 during the virtual event, which replaces MAC's traditional summer conference shelved due to the public health circumstances imposed by the coronavirus.
Highlights of the event include:
Izzo's remarks on Aug. 20, starting at 11 a.m.
Plenary sessions that will feature MAC's Legislative Update, the semi-annual "State of MAC" report and an address by MAC Board President Veronica Klinefelt
The Annual Business Meeting, during which members will vote on MAC's policy platforms for the 2020-21 year
Seven policy workshops that will focus heavily on the implications of COVID-19 for counties in the coming months
A Virtual Exhibitor Show that will allow attendees to select up to five firms from which to hear 10-minute presentations
The unique nature of this event also brings changes to registration procedures:
The conference registration fee is only $50 for members, which includes all county officials
Attendees must register by a new deadline prior to the event – Aug. 7
MAC will not accept "walk-up" registrations during the conference (this is due to credentialing and election procedures adopted for the conference)
---
2020 Virtual Legislative Conference
To view any of the content from MAC's first Virtual Conference, held April 16-30, click here.
---
MAC Conferences
Aug. 18-27
Annual Conference
Virtual Sessions
April 27-29, 2021
Legislative Conference
(with MCMCFC)
Lansing Center/Radisson, Lansing
Sept. 26-28, 2021
Annual Conference
(with MCMCFC)
Grand Hotel, Mackinac Island