Conferences
2021 Michigan Counties Legislative Conference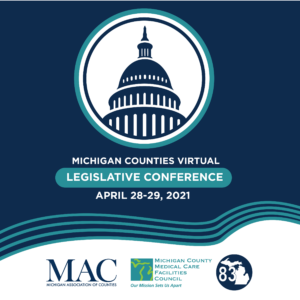 MAC and MCMCFC invite you to join the 2021 Michigan Counties Legislative Conference held virtually this year. While the COVID-19 pandemic is keeping us from meeting in person, MAC and MCMCFC have designed an interactive virtual conference for members and guests.
See a tentative agenda, information on workshops and more by clicking here.
PRICING
Member – $125
Non-Member $150
*Non-Members are those attendees who are not currently county, corporate or affiliate members of MAC or MCMCFC.
*Elected county clerks, prosecutors, registers of deeds, sheriffs and treasurers ARE eligible for the member rate.
CONTINUING EDUCATION
The MCMCFC Workshops have been submitted to the Ohio Nurses Association (ONA) and National Association of Long Term Care Administrator Boards (NAB) for approval to award NHA continuing education credits and nursing contact hours.
Register here: http://bit.ly/MICountiesConference21

---
Upcoming MAC Conferences
Sept. 26-28, 2021
Annual Conference
(with MCMCFC)
Grand Hotel, Mackinac Island
March 21-23, 2022
Legislative Conference
(with MCMCFC)
Lansing Center/Radisson, Lansing
Sept. 18-21, 2022
Annual Conference
(with MCMCFC)
Blue Water Convention Center/Doubletree, Port Huron
April 24-26, 2023
Legislative Conference
(with MCMCFC)
Lansing Center/Radisson, Lansing
Aug. 16-19, 2023
Annual Conference
(with MCMCFC)
Radisson, Kalamazoo
April 29-May 1, 2024
Legislative Conference
(with MCMCFC)
Lansing Center/Radisson, Lansing