Blue Cross Blue Shield of Michigan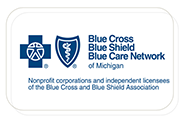 MACSC is a trusted partner with BCBSM specializing in health insurance administration, providing your staff with one-stop, dedicated customer service assistance. This service is offered to your county and your agent free of charge.
MACSC in partnership with Blue Cross Blue Shield of Michigan is equipped to handle your county's health insurance administration. With online access to BCBSM, your new hires, terminations, member changes, and new card requests are handled more efficiently and provides you with a greater level of customer service to meet your employee's needs.
Contact Stephan Currie from MACSC at 517-372-5374 or scurrie@micounties.org for more information on how you can start taking advantage of this program.
Additional resources from BCBSM:
Download the free BCBSM app!
Ever been surprised by your bill at the doctor or pharmacy? You can use the BCBSM mobile app to find out what you'll owe ahead of time. It connects you securely to the health plan info on your bcbsm.com account when you need it.

www.ahealthiermichigan.org: 
This blog offers articles related to workplace wellness, healthy cooking, mental health and community events.
www.mibluesperspectives.com: 
This site provides articles related to health care reform, health insurance, industry trends and health care quality efforts in our state.