CoPro+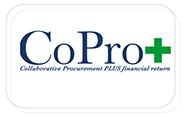 CoPro+ is a program that provides public entities with the opportunity to collaboratively procure valuable goods and services at competitive prices, while receiving a dividend as a reward for being a shareholder in the program.
CoPro+ is a time and cost savings program. It offers strong collaboration between the private and public sector, allowing the program to save your organization valuable dollars. The collaborative procurement program provides your organization assistance in every phase of the supply chain, ensuring quality products and services brought to you in the most efficient, costeffective manner.
Benefits:
· Reduced workload for your staff
· Competitive pricing
· User interface is easy to use
· Approvals can be set by management so proper procedures are met
· Interface provides valuable reporting tools so managers can see purchasing trends many organizations
· Fulfills shared services category of EVIP
· Pays dividend back based on participating in contracts
For more information, visit www.coproplus.org
CoPro+ Brochure [pdf]
CoPro+ FAQ [pdf]
Contact Stephan Currie from MACSC at 517-372-5374 or scurrie@micounties.org for more information on how you can start taking advantage of this program.