eConnectDirect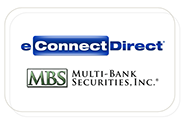 MACSC has partnered with Multi-Bank Securities, Inc. (MBS) and eConnectDirect® as an essential solution for members to manage their fixed-income investment needs. This proprietary tool, developed by MBS, gives county treasurers visibility to thousands of fixed-income offerings in a market known for little transparency. It arms investors with the necessary tools and confidence to compare, select and manage offerings within the fixed-income marketplace.
While eConnectDirect allows customers to be self-sufficient, the service also allows them to work with licensed MBS account representatives in a dynamic way – working side-by-side with clients on fixed-income investment decisions they wish to make or to answer any questions clients have.
eConnectDirect offers access the following investment products:
U.S. Agencies
Treasuries
Certificates of Deposit (CDs)
Municipal Bonds
Corporate Bonds
New Issue and Secondary Bonds
Additional features of the platform include:
Quick and easy search and filter tools to allow for effortless navigation across multiple fixed-income markets
One-step market view via maturity ladder
"Request a Quote" – allows for bid/offer requests for any fixed-income product with a CUSIP
Maturity alerts along with other customizable notifications
CD insurance scrub
Consolidated position management tools and reports
Third-party research
Access to historical financial data for banks and credit unions
Customer support by a licensed securities representative
Free safekeeping/custodial solution
For information about how your county can participate in the eConnectDirect program, contact:
Dina Gustafson
(888) 857-7212
dgustafson@mbssecurities.com
Helpful documents
Investing platform redefines how county treasurers do business
About Multi-Bank Securities, Inc.
Multi-Bank Securities, Inc. is an independent, veteran-owned, fixed-income securities broker-dealer that has been serving institutional investors across the U.S. since 1988. Member of FINRA & SIPC; MSRB Registered.