MACAO Membership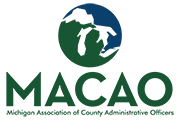 How to become a member of MACAO
The association offers two membership categories – regular and associate.
Regular memberships are open to individuals serving in county administrative posts across Michigan.
Associate memberships are open to former administrators, corporate partners and friends.
Dues are $190 per year and cover the period of July 1 to June 30.
To join, download a membership application and return to melot@micounties.org.