2020 MAC Membership Directory is out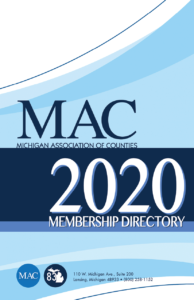 The 2020 MAC Membership Directory is the ultimate guide to county elected officials across Michigan.
Each of Michigan's 83 counties has a full listing with names, addresses, phone numbers and emails for all county elected officials. The directory also carries a list of board chairs and vice chairs; full administrator listings; and contact information for human resources and purchasing.
Readers also will find background materials on MAC's services, full listings for Michigan legislators, both state and federal, and Michigan legislative committee assignments.
Members also can access a digital version of the directory here. Your password information is found on the Table of Contents page of your directory.
MAC appreciates the support of our advertisers for helping make complimentary copies available to all county commissioners and county board offices: 44North; BS&A Software; Blue Cross Blue Shield of Michigan; Clark Schaefer Hackett; CompOne Administrators; CSI – Computer-Systems, Inc.; Delta Dental; Enbridge; Farner Asphalt Sealers; Foster Swift; Grand Hotel; Granger Construction; Great Lakes Communications Sales Inc.; Ibex Insurance Agency; Kitch, Drutchas, Wagner Valtutti & Sherbrook; Kofile Technologies; M3 Group; Michigan County Medical Care Facilities Council; Michigan State Industries; Michigan Works! Association; Mika Meyers Beckett & Jones PLC; Miller, Canfield, Paddock and Stone; MMRMA; My Community Dental Centers; Nationwide Retirement Solutions; PFM Financial Advisors, LLC; and Spalding DeDecker.
If you see an issue with any of your county's listings or have updated information, please contact MAC Communications Director Derek Melot at melot@micounties.org to allow for updates to the digital version of the directory.