Large field of candidates to vie for MAC Board seats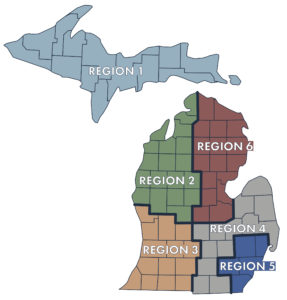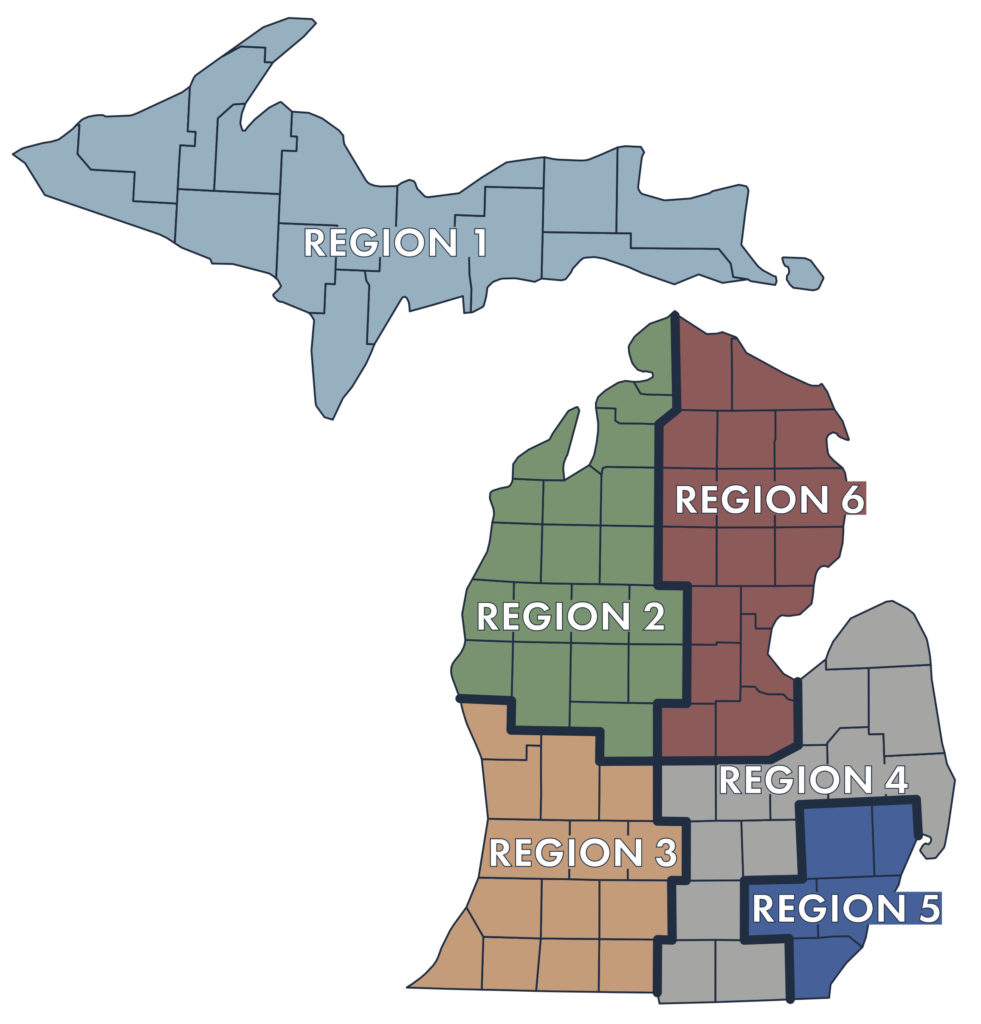 Fourteen county commissioners from across Michigan have filed to fill five vacant board seats on the MAC Board of Directors in elections to be held at the 2023 Legislative Conference, April 24-26.
"This is the largest field of candidates we've had in recent memory," said Stephan Currie, MAC's executive director, "so it's important that we have the best possible participation in the elections on April 25."
The 16-member MAC Board is the association's governing body. It meets four times per year.
Candidates for these special elections are:
Region II
Neil Ahrens, Emmet
Lauren Flynn, Grand Traverse
Art Jeannot, Benzie
Bryan Kolk, Newaygo
Jarris Rubingh, Antrim
Region III
Ryan Laylin, Cass
Tom Matthew, Branch
Tami Rey, Kalamazoo
Rick Shaffer, St. Joseph
Region IV
Irene Cahill, Ingham
Dwight Washington, Clinton
Region V
Sarah Lucido, Macomb
Terry Marecki, Wayne
Region VI
Election procedures
Only commissioners who register for the Legislative Conference (see item below) may participate in the regional caucuses that fill these seats.
Regional Board seats are filled by elections in which each COUNTY gets ONE vote.
The caucuses will begin at 3:15 p.m. on Tuesday, April 25 in the Lansing Center. (Exact room assignments will be released immediately prior to the conference.)
Each candidate provided a statement of candidacy with their filing. See below. (If you are not sure which Region your county is in, please consult this list.)
See statements from each candidate and more details about the election by clicking here.
Conference will provide substantial info on opioid settlements

With counties now deep into planning on how to deploy funds from national opioid settlements, the 2023 Legislative Conference will be a great aid to county leaders interested in learning more on the subject.
On Tuesday morning, April 25, a breakout will focus on "helping counties learn about best practices on treatment and prevention. It is critical for counties to use evidence-based practices and respond to the needs of their communities, which are facing even higher rates of opioid overdose deaths since the COVID-19 pandemic began."
In addition, Amy Dolinky, MAC's technical adviser on opioid settlement planning, will be stationed at an "Opioids Help Desk" in the registration area to respond to inquiries from conference-goers. Among topics Dolinky can address are:
Understanding the opioid settlement landscape and allowable uses of funding
Guidance for community engagement and engaging those with lived experience and persons that use drugs
Assistance with community needs assessments and strategic planning efforts
Support in development of spending plans
Preparation for current and future reporting  
Linkage to additional resources and support
Early-bird registration (member rate of $405) continues to April 3 for the conference, the first of MAC's two signature events for our 125th Anniversary year.
This year's event will be April 24-26 in Lansing, with sessions at both the Radisson Hotel and the Lansing Center. The event is co-hosted by the Michigan County Medical Care Facilities Council (MCMFC).
Plenary sessions will feature:
A discussion with the Legislative "Quadrant" (the four senior officials in the House and Senate) led by MAC's director of governmental affairs, Deena Bosworth
"A National Perspective on the County Landscape and Priorities" by Matt Chase, executive director of the National Association of Counties
A MAC Legislative Update from MAC's Governmental Affairs staff
A State of MAC report from MAC Executive Director Stephan Currie
Remarks from MAC President Stan Ponstein of Kent County
A Legislative Reception on the evening of Tuesday, April 25, during which MAC will present its County Advocate Awards for legislative service in 2022.
For additional details on hotel rooms, registration pricing, parking and more, visit the conference page on MAC's website.
Special episode delves into rising issue of lake levels across Michigan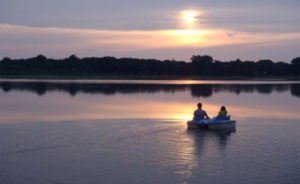 In a special episode of Podcast 83, MAC's Deena Bosworth discusses the rising issue of inland lake levels with a legal expert on county responsibilities for lakes.
Stacy Hissong, general counsel for the Michigan Association of County Drain Commissioners and member of the law firm of Fahey Schultz, reviews both the unique role of Michigan's county drain commissioners and the challenges that counties face on the approximately 400 inland lakes for which they have operational responsibility.
In this episode, learn more about:
What officer determines the lake level on a lake that a county is responsible for
Techniques that are used to maintain a proper lake level
Challenges now confronting counties on lake control
See the full video session, originally recorded on Feb. 21, 2023, by clicking here.
Previous episodes can be seen at MAC's YouTube Channel.
And you always can find details about Podcast 83 on the MAC website.
Pension grants are focus of April 6 Treasury webinar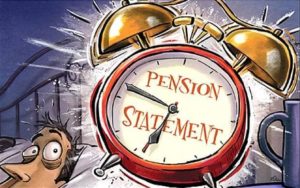 The Michigan Department of Treasury will host the initial webinar to review the Protecting MI Pension: Michigan Local Pension Grant Program on April 6. This initial webinar will focus on the processes that local governments will use to complete and submit an application, along with the process for review and award distribution. Subsequent webinars will focus on technical aspects related to the Protecting MI Pension Grant program, as well as frequently asked questions.
Register for April 6, 2023, Webinar
Topics will include: Bureau of Local Government and School Services – Trusted Partner Model, Overview of Protecting MI Pension Grant Program, Eligibility Requirements, Grant Application Process, Program Award Distribution Process, Key Dates and Timeline, and Next Steps.
Additional information related to FAQs, program guidelines, and application materials will be available at www.Michigan.gov/MIPensionGrant no later than April 15, 2023. Please be sure to sign up for Treasury – Local Government email alerts to be notified of additional updates to this grant program and other local government notifications. 
Questions regarding the Protecting MI Pension Grant can be directed to Treasury at Treasury-MIPensionGrant@Michigan.gov.
Staff picks