Revenue sharing replacement funds to hit accounts on Monday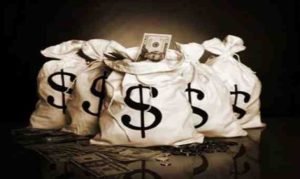 Replacement dollars for the cancelled August revenue sharing payments will reach county accounts on Monday, Aug. 31 as scheduled, MAC was told this week by state officials. Although the amount listed on the SIGMA website is correct, the name of the municipality is wrong, and is a glitch that if fixed will cause more problems than it fixes.
For exact amount and accurate county name, please see this list from the Department of Treasury. 
Hazard pay premium payments are still being processed and will not be ready for another week. Additional staff has been assigned to this division of the Treasury Department to speed up the processing of applications. Those local units that have requested advanced payment of these funds before expending them should receive the funds within the next two weeks, long before the Sept. 20 deadline to make the payments to eligible employees.
As far as the payroll reimbursement program goes, those figures are still being calculated at Treasury. As reported last week, the number of applications received will greatly exceed the amount allocated for the program. The appropriation was for $200 million, but Treasury anticipates the requests will total about $350 million.
Therefore, each payment to locals for this program will be prorated based on the amount your locality requested as a percentage of the total amount requested. Those figures are not available yet. Once the hazard pay applications have been fully processed, department resources will be redirected to the payroll reimbursement program.
For more information on this issue, contact Deena Bosworth at bosworth@micounties.org.
Conference concludes with workshops and platform and board elections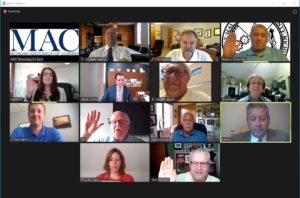 MAC concluded its 2020 Virtual Annual Conference this week with members easily approving policy platforms for the coming year and the election of unopposed candidates for five Board positions.
Ingham County's Bryan Crenshaw is the only new addition to the Board, elected to fill a vacant seat in Region 4. Incumbents Stan Ponstein (at-large), Joe Bonovetz (Region 1), Richard Schmidt (Region 2), Jim Storey (Region 3) and Veronica Klinefelt (Region 5) were re-elected without opposition at virtual caucuses held Wednesday. Ninety MAC members were eligible to vote in elections via their registration for the Annual Conference.
On Thursday, the Board members were sworn in for their new terms at a MAC Board meeting.
Due to the coronavirus pandemic, the Board voted in June to extend officer terms for one year, so for the coming year President Klinefelt, First Vice President Phil Kuyers of Ottawa and Second Vice President Ponstein will hold their positions.
Workshops during week 2 of the virtual event focused on such issues as:
"We appreciate our members' participation, and patience, as we explored new ways to provide information and transact association business," said Stephan Currie, MAC executive director. "It all worked pretty well and we can build on this success as needed for future events."
All of the conference sessions were recorded. MAC will be placing video files on the micounties.org website at some point in September. Watch for alerts in future Legislative Update emails for details on this.
MAC's next scheduled conference is the Michigan Counties Legislative Conference, set for April 27-29, 2021, in Lansing.
Urban Institute seeks upward mobility partners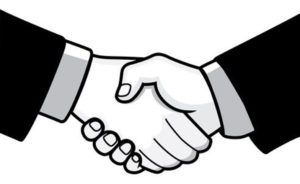 The Urban Institute, with funding from the Bill and Melinda Gates Foundation, is looking to partner with up to eight counties to compose an Upward Mobility Cohort.
Awardees will receive $125,000 and 18 months of tailored technical assistance from Urban Institute experts to help county leaders use a set of 25 evidence-based mobility metrics to inform decision-making and develop a "mobility action plan." This plan will reflect a comprehensive approach to upward mobility from poverty and will identify key challenges across policy areas that inhibit local mobility. The plan will also highlight strategies to improve local conditions for mobility and outcomes for residents, as informed by data and community voices.
Interested counties should complete the Request for Information (RFI) by Sept. 16, 2020. The researchers will select up to 25 finalists who will be invited to submit a full proposal due in November 2020, ultimately inviting eight counties to participate in the Upward Mobility Cohort. The cohort and technical assistance process will launch in January 2021.
An updated list of frequently asked questions will be posted at this link on Sept. 1.
Registration is now open for the Great Lakes PFAS Summit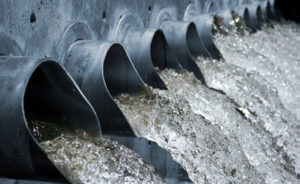 The Great Lakes PFAS Summit has been moved to a virtual, week-long event to be held Oct. 26-30, 2020. The goals of this conference are to provide the most current and reliable science and policy, facilitate networking and information sharing, and explore current and future research topics related to per- and polyfluoroalkyl substances (PFAS).
One of the biggest stories in chemical contamination emerging over the past several years has been PFAS. States throughout the nation, including the Great Lakes region, are finding PFAS contamination in a growing number of locations where these persistent chemicals pose a threat to people and the environment. The Great Lakes Virtual PFAS Summit will bring together environmental program managers, policy experts, researchers, and contractors from around the Great Lakes region to share the challenges of addressing this contamination and present innovative technical solutions developed to address these "forever" chemicals.  
Participants may include local, state, and federal government officials; environmental consultants and vendors; academic researchers and students; industry managing PFAS contamination; and community organizations. The cost is $50 and professional development hours will be available.
Staff picks