Podcast 83 begins look back at 2023 legislative year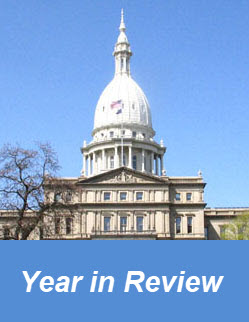 Legislative successes on juvenile justice reform, property tax reimbursements and revenue sharing highlight the first of two episodes of Podcast 83 that are looking back at 2023 in the State Capitol.
Host Stephan Currie and the MAC governmental affairs team of Deena Bosworth, Madeline Fata and Samantha Gibson reviewed the county perspective on the following:
Passage of a huge juvenile justice reform package, which notably did not include an extension of juvenile services under the Michigan Indigent Defense Commission. "MIDC will remain exactly as is," Gibson said.
Release of Personal Property Tax (PPT) funds for local governments, which are losing revenue due to expanded tax exemptions for small businesses approved by the state two years ago. "There's been $75 million set aside, and they are required to set aside $75 million each year to go out to local units to reimburse them," Bosworth explained. "We are pretty happy about that."
A new, dedicated Revenue Sharing Trust Fund, which was approved overwhelmingly by the House and now awaits action in the Senate in 2024. "It's a true sharing of the state's revenue," Bosworth said of the long-standing MAC priority. "It's a straight carve-out of the sales tax … and allows for growth."
View the full video of the episode, recorded on Nov. 28, by clicking here.
The Legislative Year in Review will continue with Part II, set to be released on Wednesday, Dec. 6.
Previous episodes can be seen at MAC's YouTube Channel.
And you always can find details about Podcast 83 on the MAC website.
Check out new estimates on opioid settlement payments
An Opioid Settlement Payment Estimator was released this week by Attorney General Dana Nessel's office.
The worksheet outlines the estimated totals for opioid settlements in counties, other local governments and the state. Outside of estimated total amounts by settlement, local governments can see estimates for payments expected from each settlement in each calendar year.
The updated dollar amounts provided in the worksheet also have been updated on MAC's Opioid Settlement Resource Center dashboard and a link to the payment estimator is provided.
For information on MAC's opioid settlement resources, contact Amy Dolinky at dolinky@micounties.org.
State offers Dec.15 webinar about new juvenile justice laws


The Michigan State Court Administrative Office and the Michigan Department of Health and Human Services invite county officials to join an informational webinar to learn more about the recently passed Justice for Kids and Communities bill package. The bill package is the result of the work of the Michigan Task Force on Juvenile Justice Reform and will bring significant changes to the juvenile justice system that will improve outcomes for youth and families and strengthen public safety across the state.
MAC supported this package during the 2023 legislative sessions.
The webinar will provide a detailed overview of the legislation. We will also be collecting your outstanding questions about the provisions for review and discussion at a future training opportunity. Please find logistical information to join the webinar below:
Date: Dec. 15
Time: 11 a.m. to 12 p.m. EDT
Meeting ID: 819 2365 5146
Passcode: 551429
For more information on MAC's advocacy work on juvenile justice issues, contact Samantha Gibson at gibson@micounties.org.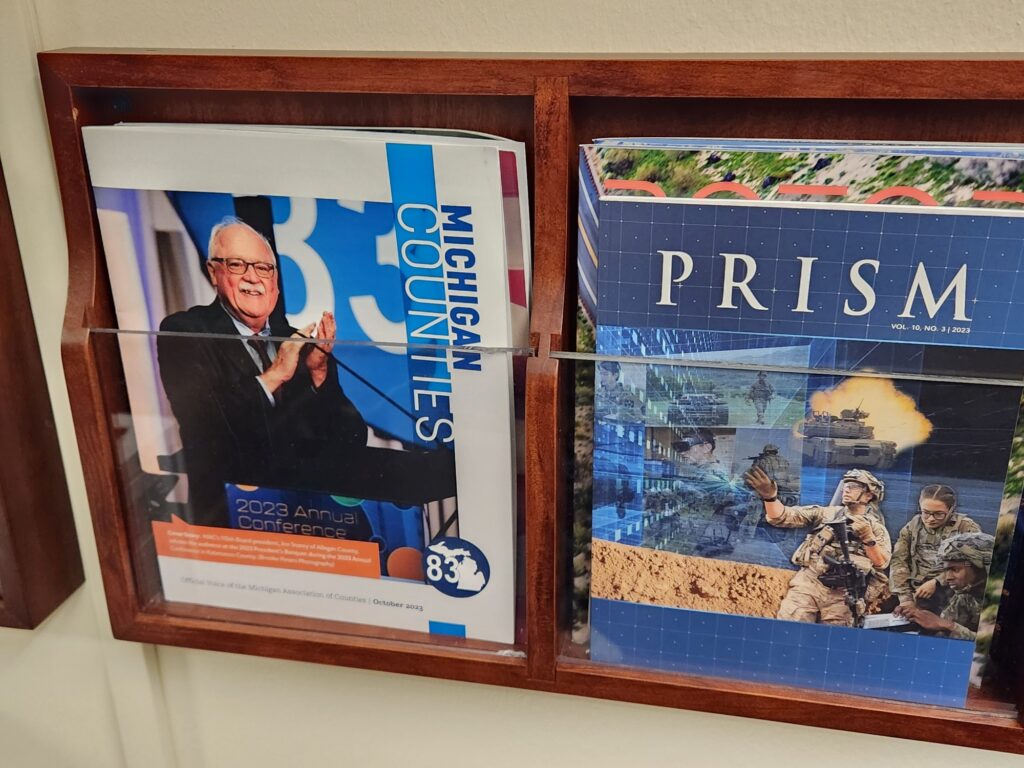 MAC president 'visits' Capitol Hill:
A friend of MAC recently visited the Capitol Hill offices of Congressman John James of Michigan and noticed President Jim Storey also "there" via the cover of the October 2023 edition of Michigan Counties. MAC distributes more than 1,500 printed copies of the magazine every two months to county, state and federal officials.
Three Midland County employees finish NACo leadership program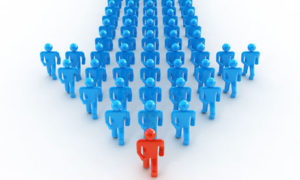 MAC congratulates the August 2023 NACo Leadership Academy graduates from Michigan. They join more than 10,000 graduates and current participants from across the country benefitting from the 12-week online program enabling existing and emerging county leaders to achieve their highest potential:
Chris Gaumer, equalization director, Midland County
Jessica Gilkins, board administrative assistant, Midland County
Marisa Boulton, community corrections coordinator, Midland County
Celebrate the 10th anniversary of the High Performance Leadership Academy with a special training deal: each county can enroll 10 leaders for $15,000 in 2024. Our next cohort starts Jan. 8.
CLICK HERE TO LEARN MORE AND ENROLL
Developed by General Colin Powell, the Professional Development Academy and NACo, the High Performance Leadership Academy is an online 12-week program that helps your workforce develop fundamental, practical leadership skills to deliver results for counties and residents.
Staff picks