Don't lose out on early-bird registration rate for Annual Conference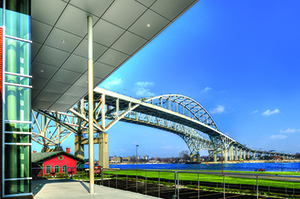 County officials have just five days left to take advantage of the early-bird registration rate of $395 for the upcoming 2022 Michigan Counties Annual Conference, Sept. 18-21 in Port Huron.
The conference will be headquartered at St. Clair County's Blue Water Convention Center in Port Huron at the southern end of Lake Huron.
The early-bird rate for members and spouses is set to expire Aug. 10.
Expiring even sooner is the special conference room rate of $129 per night at the Comfort Inn in Port Huron. (A free shuttle service will run between the Comfort Inn and the conference center and there is plenty of free parking at the conference center as well.)
The Annual Conference will feature:
Four plenary sessions featuring key issues now before Michigan and a MAC Legislative Update (Speakers will be announced soon.)
12 breakout sessions for MAC members and 6 workshops for MCMCFC members (Speakers will be announced soon.)
A Welcome Reception and Strolling Dinner on the evening of Sunday, Sept. 18.
A reception sponsored by MAC's CoPro+ subsidiary on Monday evening, before attendees are shuttled into downtown Port Huron for a "dinner on your own" night.
A lavish President's Banquet on the night of Tuesday, Sept. 20.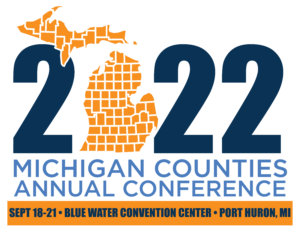 Members of MCMCFC will enjoy specialized breakouts designed for its members to earn Nursing and NAB Continuing Education credits. And MAC members attending the conference will receive credits in MAC's County Commissioner Academy.
The early-bird conference fee of $395 provides members full access to all conference activities. (The spouse fee also provides access to any conference event, including the President's Banquet on the evening of Sept 20.) This fee includes two dinners, two receptions, two breakfasts and two lunches. On Aug. 11, the member fee will increase to $425, while the spouse rate will rise to $175.
NOTE: The member rate is open to all county commissioners, administrators, countywide elected officials and county employees of MAC member counties, plus employees and board members of MCMCFC facilities.
Hotel details
Rooms at the Comfort Inn are $129 per night. The Comfort Inn is located at 1720 Hancock St., Port Huron, MI 48060. To book your room reservations, call 810-987-5999. Group Name: MAC.
As of Thursday, the Comfort Inn had 34 rooms still available in the conference block with the special pricing of $129 per night.
Please direct any conference registration questions or issues to conference@micounties.org.
Vast majority of county millage requests approved by voters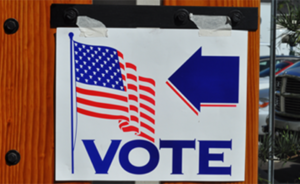 Voters in the Aug. 2 primary election gave broad approval to county millage requests, both renewals and increases, an analysis by the Gongwer News Service found.
In fact, only seven out of the more than 100 such requests were denied by the approximately 2.1 million voters who participated statewide in the primary.
Voters in Benzie County approved six different millage questions, while voters in Midland and Sanilac each approved five.
For summary details on all of the county requests from Gongwer, click here.
Policy Summit presentations, videos now available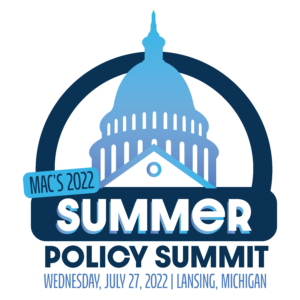 Presentations and videos from MAC's 2022 Policy Summit are now available to members with 24/7 access.
The Policy Summit, which replaced MAC's Regional Summits, featured four major policy briefings on:
Challenges in workforce housing
Michigan's trails system and its benefits
Michigan's political dynamics in 2022
Ideas to maximize infrastructure dollars
For links to presentations and videos, visit the Policy Summit page on the MAC website.
Summit to brief community leaders on broadband developments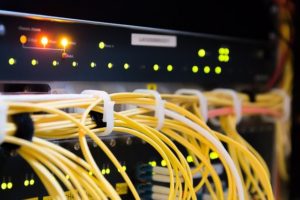 Join community leaders, federal representatives and staff from the Michigan High-Speed Internet Office on Aug. 18 at this free event to learn about critical programs to expand broadband infrastructure and digital equity throughout the state. During this day-long summit, discussions will include local government and community needs, legislative and program updates, working with industry, data collection and mapping, and supply chain and talent needs, among others.
You may attend in-person or via a digital option for the event, which will run from 8:30 a.m. to 4 p.m.
Connecting all Michiganders to affordable, reliable high-speed internet is critical to our economic stability and this event will provide an opportunity for us to discuss ways we can work together to efficiently and effectively utilize broadband funds from the Bipartisan Infrastructure Law and other federal broadband dollars to the maximum extent.
Broadband policy and how counties can connect their residents also will be the focus of a Plenary Session at the 2022 Michigan Counties Annual Conference, Sept. 18-21. Registration remains open. Click here to register.
MAC includes county settlement projections on new opioids page

A new digital resource for county leaders now includes estimated county-by-county payments coming from the national opioid settlement.
In figures provided by the State Attorney General's Office, an estimated $78 million will be assigned to Michigan counties. To see your county's estimate, first visit MAC's Opioid Settlement Resource Center.
Among the features of the new page are:
An overview of the opioid crisis and the national settlement
Numerous general resources on how counties could deploy their funds to maximize public health
Links to Michigan Department of Health and Human Services webinar recordings
MAC will continue to add news, links and resources to the center as the distribution of the settlement advances.
Staff picks