If more voters shift to mail option, clerks will need funding, rule changes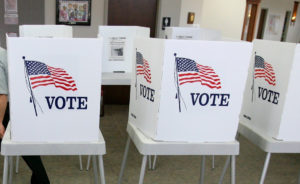 By Barb Byrum/Ingham County Clerk
This article originally appeared in the April 2020 edition of Michigan Counties.
In March, Secretary of State Jocelyn Benson said her office would mail an application for an absent voter ballot to all qualified registered voters who have an election on May 5. Michigan law requires that voters submit a written request for an absent voter ballot. Many city and township clerks now maintain a Permanent Absent Voter (AV) List, where they mail an application for an absent voter ballot to those who have signed up for the list before each election. For those voters that are not already on the Permanent AV List, they can certainly still vote by mail in any election they choose, they would just need to find the request form for that specific election.
Typically, May special elections see lower turnout, so perhaps if voters receive an application for an absent voter ballot, more will participate. Benson has argued that by encouraging absent voter participation, her office is helping promote public health and keeping democracy protected. During the March 10 presidential primary election, we learned what a significant increase in no-reason absentee voting, as well as same-day voter registration, looks like for those running elections.
When holding an election by mail, which the May special election essentially will be, arguably on a smaller scale than the August 2020 election will be, local clerks are going to need additional resources.
The need to start processing ballots the day before the election is heightened, when almost all ballots will be absent voter ballots. The current proposed legislation does not allow for the early tabulation of ballots. The current proposal allows for the processing of ballots, which includes: Opening the outer envelope, while keeping the voted ballot still in the secrecy envelope and removing the ballot stub.
Also, some local clerks who have never had an absent voter counting board (AVCB), which is essentially a separate precinct set up for the sole purpose of processing absent voter ballots, are all of a sudden going to find themselves in need of this process. AVCBs are not necessarily difficult to carry out, but will require an extra supply of election inspectors and now, with the concerns about COVID-19, clerks will certainly see a decrease in staff. AVCBs also need their own tabulators that need to be tested and set up for this purpose. Coupled with the need to do significant mailings and data entry for those mailings before the election in a timely manner (tracking in the Qualified Voter File when absent voter ballot applications are received, absent voter ballots are mailed, absent voter ballots are received, etc.), clerks are going to have some new, perhaps even un-identified, opportunities to overcome.
Although voting by mail, or as us Michiganders know it, absent voting, seems like it protects everyone's right to vote, there will still be a need for local clerks to have precincts open and their offices open for those individuals who need to go to the poll to vote or those that need to register to vote with their local clerk on Election Day.
Most of the above concerns will land on the shoulders of the local (city and township) clerks, but the County Clerks stand ready to assist in any way we can. Perhaps County Clerks can assist local clerks in coordinating AVCBs, lending extra equipment for AVCBs, or assisting with same-day voter registration in local clerks' offices. Safe and secure elections are our primary goal and we look forward to continuing to serve the voters of Michigan in that capacity.
Barb Byrum is a board member for the Michigan Association of County Clerks.