Legislative Update 10-30-20
State releases new health orders on public gatherings, mask use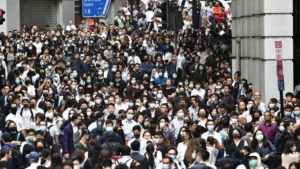 With COVID-19 hospitalizations and deaths rising, the Michigan Department of Health and Human Services (MDHHS) released new, more restrictive health orders on Thursday night on public activities and mask usage.
Among the key changes in the new orders:
Restaurants and bars must seat no more than six people at a table
All dine-in establishments must keep customers' names and phone numbers for contact-tracing purposes
Face masks are required for everyone at indoor gatherings
Indoor gatherings are capped at 50 people in venues with no fixed seating
Outdoor gatherings at residences are limited to 100 people
Indoor gatherings at residences are limited to 10 people
The department also ordered that the region around Traverse City has been pulled back to Phase 4 of the state's Safe Start system, bringing it in line with restrictions in the rest of Michigan.
The orders are effective immediately, except for the contact tracing provision on eateries, which begins Nov. 2.
For the latest information on COVID-19 response, visit MAC's Resources Page.



Final state approval given on Indigency Standard 5

As expected, the state Department of Licensing and Regulatory affairs (LARA) has approved the Michigan Indigent Defense Commission's Standard 5, which requires independence of the judiciary ("to ensure the court is free from political and  budgetary influence when making indigency determinations") pursuant to the MIDC Act. The full final standard can be found here.

The MIDC notified funding units of the following:

"As required by MCL 780.993(3), indigent criminal defense systems must submit a plan for compliance with minimum Standard 5 "no later than 180 days after" approval by the department.  A plan for compliance with Standard 5 will be due to the MIDC by April 27, 2021. Submission of a plan for compliance with Standard 5 will correspond with the annual compliance planning cycle for all approved standards. Your Regional Managers will be in touch to support planning efforts. Please check our website regularly for updates and materials related to compliance planning."

MAC members have expressed concern that the state will not continue to fully fund current and future standards. MAC expects compliance with Standard 5 to further add to costs and will continue our efforts to fully fund all approved standards. Additionally, the law clearly outlines that a county's duty of compliance with approved standards is contingent upon receipt of a grant in the amount sufficient to cover the approved standards within the system's plan.

For questions, contact Meghann Keit at keit@micounties.org.

Treasury releases FY21 actuarial assumptions  

The Michigan Department of Treasury is required, under PA 202 of 2007, to establish uniform actuarial assumptions for retirement systems on investment returns, mortality rates and health care inflation each year.    Local units of government with a defined benefit system are required to use these assumptions in their annual report to the department. These assumptions are different that the assumptions used in your local audited financial statements. The assumptions issued by Treasury are meant to serve as a comparison of systems across local government for public and government evaluation purposes, and not as the measurement to determine if the local unit is in a funded or unfunded status.

A local government funded status is determined by their own assumptions in their local audited financial statement.

For more information, contact Deena Bosworth at Bosworth@micounties.org.

Finance report: Use counties' regional position to leverage reforms

Michigan should give counties the option to create a new tax and serve as a hub for delivery of more local services, says a new report.

"Towards Fiscally Healthy Michigan Local Governments," an analysis by the Lincoln Institute of Land Policy, details what most county leaders already know – that the state of Michigan has long starved counties and other local units of necessary revenue and local public services are suffering as a consequence, to the detriment of Michigan.

The analysis' authors argue this is not sustainable and that the best response is to rely in part on counties' unique position to deliver services and collect revenue on a regional basis.

"(T)he state suffers from government fragmentation, which results in inefficiencies: with every county, city, village, township, and special district responsible for providing certain services, duplications among overlying governments may arise. Cost-saving measures implemented by many municipalities can only go so far and opportunities for collaboration may be overlooked," the authors explain.

"One of two approaches should follow: (1) reorganize the local government's service delivery model to allow counties to provide more services; or (2) create a system for the county to distribute new revenues to all local units of government within the county, with the county retaining a small portion of the revenues to cover administrative costs and to help pay for other county-provided services."

"The report has several interesting suggestions and it is valuable in that it will help continue to raise the local funding crisis to the attention of state lawmakers," said Deena Bosworth, MAC's director of governmental affairs.

Virtual forum to highlight wind energy planning and siting issues

The National Renewable Energy Laboratory (NREL) is hosting a Wind Energy Planning & Siting Information Workshop on Nov. 17 and Nov. 19, noon to 2:30 p.m. Eastern time, for local officials and planners to share experiences while learning more about wind energy development in communities around the country.

What to expect:

Participants will share first-hand experiences and discuss common practices pertaining to wind energy development in their communities.
NREL technical experts and national and local experts will facilitate a discussion identifying potential pathways to reduce uncertainty and inform communities about wind energy impacts.

To attend, please RSVP to Chloe Constant (chloe.constant@nrel.gov) by Nov. 4.

Staff picks