Legislative Update 11-11-22
Plenty of new faces on county boards
There will be plenty of new faces around county board tables come January following the Nov. 8 General Election. Most boards will continue to be controlled by Republicans.
A MAC review of unofficial election results shows 199 new names among the 619 county commissioner slots for 2023-24. This reflects a turnover rate of 32% turnover, which is higher than a usual election cycle but not extraordinary for the first election after a reapportionment process.
See unofficial list of commissioners here.
After the 2020 Census, county reapportionment boards redrew commissioner districts and, cumulatively, reduced the total number of seats from 622 in 2022 to 619 for the next decade.
And most of those seats will be held by Republicans.
For the coming term, the partisan breakdown is:
448 – Republican (up 10 from pre-election totals in 2022)
158 – Democratic (down 11)
11 – No Partisan Affiliation (down 3)
2 – Vacant (to be filled by appointment)
Republicans will control boards in 67 counties, while Democrats will have majorities in 13. Neither major party will have a majority in Iron, Menominee or Presque Isle counties.
Voters give Democrats full control of Legislature for 2023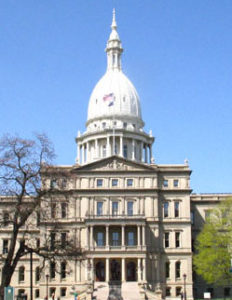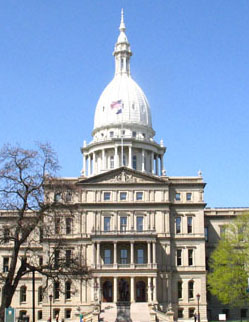 Election night in Michigan led to historic results for state government in 2023, as Democrats will have full control of the Michigan Legislature for the first time since the early 1980s.
Democrats will claim 56 seats in the 110-seat House of Representatives and 20 seats in the 38-member Senate.
In the executive branch offices, Democrats swept the top three, with Gov. Gretchen Whitmer, Secretary of State Jocelyn Benson and Attorney General Dana Nessel all winning in unofficial results.
There will be 24 former county commissioners serving in the Legislature in January, MAC's "County Caucus." They are:
Sen.-elect Veronica Klinefelt (D-Macomb); Sen-elect Sue Shink (D-Washtenaw); Sen. Jeff Irwin (D-Washtenaw); Sen.-elect Sarah Anthony (D-Ingham); Sen. Jim Runestad (R-Oakland); and Sen. Ruth Johnson (R-Oakland).
Rep.-elect Jason Morgan (D-Washtenaw); Rep. Felicia Brabec (D-Washtenaw); Rep.-elect Dale Zorn (R-Lenawee); Rep. Christine Morse (D-Kalamazoo); Rep. Julie Rogers (D-Kalamazoo); Rep. Jim Haadsma (D-Calhoun); Rep. Sarah Lightner (R-Jackson); Rep. Robert Bezotte (R-Livingston); Rep.-elect Thomas Kuhn (R-Oakland); Rep. David Martin (R-Genesee); Rep. Kara Hope (D-Ingham); Rep.-elect Penelope Tsernoglou (D-Ingham); Rep.-elect Phil Skaggs (D-Kent); Rep. Amos O'Neal (D-Saginaw); Rep.-elect Matthew Bierlein (R-Tuscola); Rep.-elect Curt VanderWall (R-Mason); Rep.-elect Betsy Coffia (D-Grand Traverse); and Rep. Ken Borton (R-Otsego).
Sen.-elect Klinefelt, Rep.-elect. Bierlein and Rep. Borton also are former presidents of the MAC Board of Directors.
See a complete list of unofficial winners in all the Michigan House and Senate.
Look for more details and analysis on the legislative impacts for counties in upcoming Legislative Update emails and future editions of Michigan Counties magazine.
Legislative caucuses choose leaders for 2023-24 term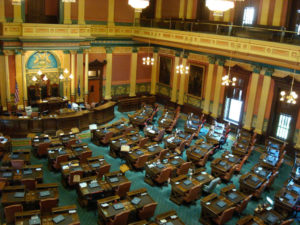 Members of the incoming Legislature gathered in Lansing Thursday to select leaders for the new term, the first in decades in which Democrats will be the majority in both legislative chambers.
Sen. Winnie Brinks (D-Kent) will serve as the first Democratic Senate majority leader since 1984 and will be the first female to ever fill the position. She completed three terms in the House from 2012-2018, joining the Senate the following year. Alongside her will be Sen.-elect Sam Singh (D-Ingham) as majority floor leader, whose role is to assemble the session agenda. He also served in the House from 2012-2018, gaining leadership experience as minority leader in 2017 and 2018.
Sen. Aric Nesbitt (R-Van Buren) will assume the role of Senate minority leader. It has been widely accepted since at least 2020 that he would serve his caucus in the top position, whether his party was victorious or not. Sen. Dan Lauwers (R-St. Clair) is the current majority floor leader and will continue his duties while in the minority. Other minority leadership seats include Sen. Roger Victory (R-Ottawa) as whip and Sen. Kevin Daley (R-Lapeer) as caucus chair.
In another historic win, Rep. Joe Tate (D-Wayne) will be the first ever black man to hold the position of speaker of the House. This will be his third term as representative, most recently serving as minority vice chair in the House Appropriations Committee. Rep. Abraham Aiyash (D-Wayne) will also be making history as the highest-ranking Muslim in the Michigan Legislature, serving as majority floor leader.
Rep. Matt Hall (R-Kalamazoo) has been chosen to serve as House minority leader. Like Nesbitt in the Senate, his name has dominated the conversation around the GOP caucus' top spot, and the party's loss doesn't seem to have swayed the caucus to vote differently. The minority floor leader will be Rep. Bryan Posthumus (R-Kent). Rep. Sarah Lightner (R-Jackson), a former county commissioner, will be caucus whip, and Rep. Ken Borton (R-Otsego), a former MAC Board president, will be caucus chair.
Senate panel OKs Veteran Service Fund changes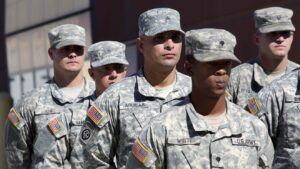 The County Veteran Service Fund, established by the legislature in 2018, was created to encourage counties to establish and maintain County Veteran Service Offices. The fund ensures that counties are eligible for a $50,000 grant annually, plus additional funding based on the number of veterans living within the county.
On Thursday, the Senate Local Government Committee approved House Bill 6377, by Rep. Roger Hauck (R-Isabella), which would modify the distribution structure of the County Veteran Service Fund.
Under HB 6377, counties must maintain a minimum county veteran service funding level of 70 percent of the funding level from FY 2017 in order to receive the $50,000 grant from the County Veteran Service Fund. The 70 percent funding level requirement was previously only for FYs 2021 and 2022. HB 6377 extends the requirement to FY 2023 and beyond.
The bill now heads to the Senate floor for consideration. Although there are few session days left, we are hopeful that the bill will make it to the governor's desk before the end of the year.
For more information on this issue, contact Samantha Gibson at gibson@micounties.org.
Podcast 83 breaks down effects of historic election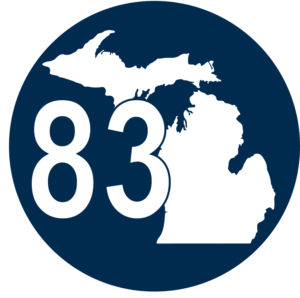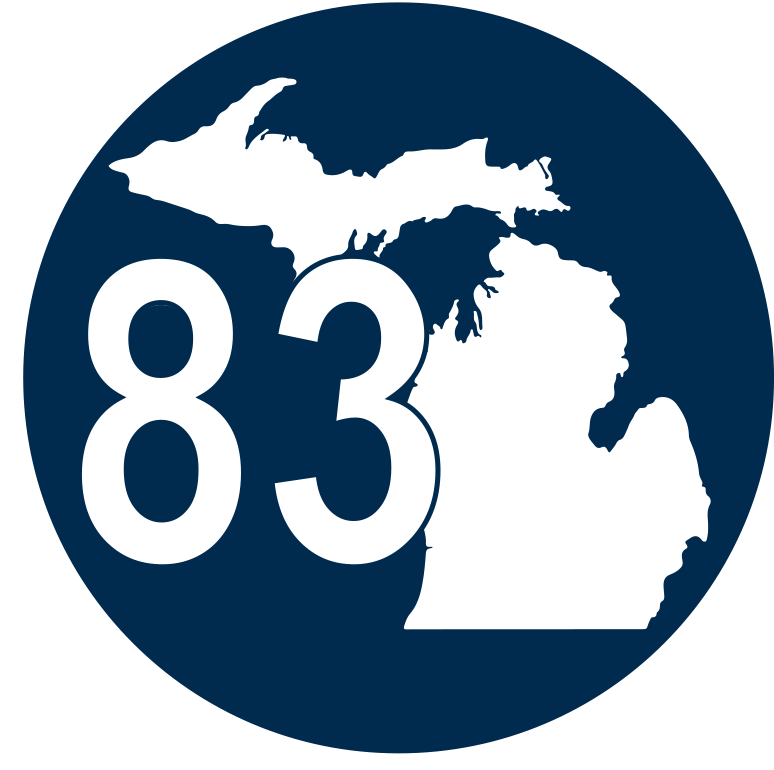 MAC's Podcast 83 team delves into the implications for county governments of Michigan's historic 2022 elections, in which Democrats won full control of the Legislature for the first time in 40 years.
Host Stephan Currie and the MAC Governmental Affairs Team of Deena Bosworth, Madeline Fata and Samantha Gibson discuss the Democratic win's effects on such issues as:
Action in the "lame duck" days of the concluding legislative session
Prospects for restoring remote meeting options under the Open Meetings Act
Size of MAC's "County Caucus" in the new Legislature
Fate of discussions on another state supplemental spending bill
See the video session, taped on Nov. 9, 2022, here.
Previous episodes in 2022 can be seen at MAC's YouTube Channel.
And you always can find details about Podcast 83 on the MAC website.
Michigan counties join Operation Green Light campaign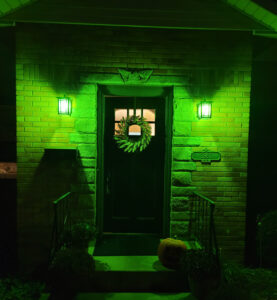 Michigan counties joined with counterparts across the country this week in Operation Green Light, a demonstration of support for the nation's veterans by lighting buildings green and encouraging others to do the same.
Kent County's participation extended to the front porch of Commissioner (and MAC President) Stan Ponstein's home (photo at right).
Other Michigan counties participating were Saginaw, Oakland, Dickinson, Midland and Iron.
MAC congratulates these counties, and any others who participated, for showing their support of members of our armed services, past and present.