Legislative Update 12-11-20
Further OMA changes expected by end of year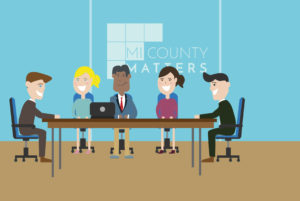 With the House session delayed due to COVID positive cases (see below), a bill to extend the "no reason" option for virtual local board meetings remains stuck on the House floor.
House Bill 6207, by Rep. Luke Meerman (R-Ottawa), awaits further action. However, the Senate was able to meet, so Senate Bill 1246, by Sen. Lana Theis (R-Livingston), could gain traction. SB 1246 is identical to HB 6207 in that it extends the ability for local boards to meet remotely, for any reason, through March 31, 2021.
After March 31, 2021, remote meetings could be held if a local emergency is declared or to accommodate a member that has a medical condition that would put them at risk during an in-person meeting. The medical condition exception only applies to that individual member for remote ability- not the entire body. (See MAC's COVID resources page for a link to a state of emergency resolution template developed by the Lansing firm of Cohl, Stoker and Toskey.)
The bill would also accommodate local jurisdictions that must pass an ordinance of local emergency. For county boards, a declaration can still be made pursuant to current law as allowed under the Emergency Management Act. 
The legislation is expected to get to the governor's desk before the end of the year. Gov. Gretchen Whitmer is expected to sign it.
For questions, contact Meghann Keit at keit@micounties.org.
Medical officer outlines Michigan's plan on vaccines
Michigan's chief medical executive, Dr. Joneigh Khaldun, outlined the state's vaccination plan this week, pending federal decisions. In addition, Khaldun and Gov. Gretchen Whitmer announced a bipartisan commission to educate Michiganders on the COVID-19 vaccine.
Interested candidates can apply for the commission by clicking here and selecting "Protect Michigan Commission" from the dropdown menu of the application. The deadline to apply is Dec. 28.
The vaccine will be deployed in phases beginning with health care providers and those in long-term care facilities. Essential workers, such as educators, police and fire, follow, as well as adults 65 and older or with high-risk medical conditions.
Earlier this month, Robert Gordon, director of the Michigan Department of Health and Human Services, told a legislative committee there is no plan to mandate a vaccine.
With a goal of 70 percent of Michigan adults vaccinated by the end of 2021, the administration of the vaccine will be a collaborative effort with hospitals, local health departments and the Michigan National Guard. Allocations are pending federal approval and manufacturing ability, but vaccinations are expected to begin before the end of this year.
The full presentation can be found here.
For questions on the vaccine, please call the COVID-19 Hotline at 888-535-6136 or email COVID19@michigan.gov.
COVID cases prompt cancellations of House activities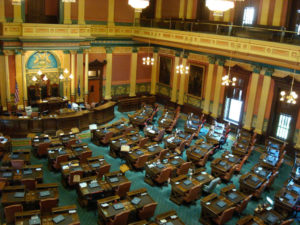 The Michigan House of Representatives largely ground to a halt this week as additional COVID-19 cases and exposures were reported around House members and staff.
As it stands, the House has just three scheduled session days left next week before the end of the 2019-2020 term.
Eight members of the state House and 21 staffers are reported to have tested positive so far this year. The Senate has reported three of its members and 16 of its staff have had COVID-19, for a total of 11 elected members and 37 legislative staffers who have confirmed they've had COVID-19.

As of Friday, MAC presumes the House will return to normal operations for Tuesday, Dec. 15. It is not clear if the delays of the past week will lead the Legislature to remain in session well into late December.
Podcast 83 continues 'lame duck' episodes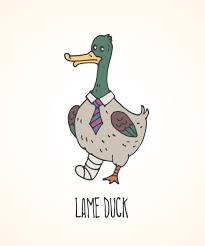 MAC Executive Director Stephan Currie led the Podcast 83 team through a review of legislative activity as 2020 comes to a close in the latest episode of Podcast 83 on Dec. 7.
MAC advocates Deena Bosworth and Meghann Keit detailed their work on further changes to the Open Meetings Act on allowing remote sessions, changes to property tax collections and news out of Washington, D.C., on additional federal aid for COVID-19 response.
The team also took questions from county leaders who participated in the live session.
To view a recording of this episode, or others, visit the Podcast 83 webpage.
MIDC to hold final 2020 session on Dec. 15; some plans still pending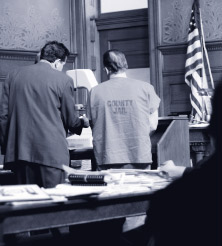 The Michigan Indigent Defense Commission (MIDC) will hold its final meeting of 2020 on Dec. 15 starting at 9 a.m. (See the agenda here.)
In October, the commission approved 110 of 120 system plans for FY 2021 and cost analyses and had distributed grant contracts to those systems. The outstanding plans and cost analyses are on the agenda next week, including those for the largest system, Wayne County.
The Legislature approved $117 million for grants in FY 2021. However, it is uncertain if this will cover the full cost for all plans until the MIDC has approved all systems. MAC supports full funding for all systems to comply with the state standards 1-4 and all future minimum standards.
The most recent standard (no. 5), which requires that indigent criminal defense services be independent of judicial influence, was approved by the Department of Licensing and Regulatory Affairs in October. A plan for compliance with Standard 5 will be due to MIDC by April 27, 2021. Submission of a plan for compliance with Standard 5 will correspond with the annual compliance planning cycle for all approved standards.
MAC will provide an update next week from the commission's Dec. 15 session.
For questions, contact Meghann Keit at keit@micounties.org.
Bill for property tax penalties and interest waiver regains traction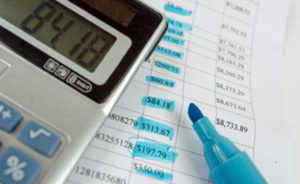 For the better part of 2020, the House and the Senate have been working on a bill to forgive the penalties and interest for those who could not afford to make their summer property tax payments.
Senate Bill 943, by Sen. Peter MacGregor (R-Kent), was thought dead for the better half of 2020, however, due to the inability of stakeholders to reach a consensus on how to pay for the anticipated costs of forgiving taxes, penalties and interest. But on Thursday, the Senate scaled back the proposal and placed the burden on the Department of Treasury to take applications, provide deferments of summer taxes and to reimburse local governments for their losses.
The bill does not provide an exemption from the taxes, nor does it provide any relief for residential customers or those businesses who have already paid their summer taxes. It does, though, provide a mechanism to forgive the penalties and interest for those qualifying businesses who have not already paid their summer property taxes. The bill is targeted for restaurants, bars, gyms and entertainment venues.
MAC is supportive of the revised version of SB 943.
The House will have to consider the bill when they return to session next week.
For more information on this issue, contact Deena Bosworth at bosworth@micounties.org.
Jewel Ware, longtime Wayne commissioner, passes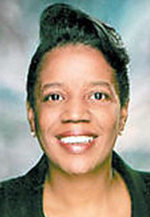 Wayne County Commissioner Jewel Ware died unexpectedly this week from a heart attack.
"The Wayne County Commission family is devastated by the sudden passing of Jewel Ware this morning," Wayne Chair Alisha Bell said in a statement. "Commissioner Ware was a trusted member of the commission family and her experience in county government and knowledge of county issues were immeasurable. … Residents of the Commission's 2nd District have lost a true champion and our heartfelt condolences go out to her loving family."
Ware was first elected to the Wayne County Commission in 1994 and served as chair of the panel from 2003 through 2008. Most recently, she served as the commission's vice chair pro tem. She represented District 2, which included much of the East Side of Detroit, downtown and the East Riverfront neighborhoods.
During her 2003-08 tenure as commission chair, she established the commission's Office of Policy Research and Analysis to provide in-depth review of county contracts and operations. Throughout her tenure on the commission, Ware was an advocate for improved health care for the uninsured and underserved, including improved mental health care, and an advocate for issues affecting senior citizens and young people.
In her district, Ware was involved in such initiatives as the Mittens and Socks Winter Drive for Children and cleanup programs sponsored by the Midtown Alliance. Ware received bachelor's and master's degrees from the University of Detroit Mercy and was a certified social worker.
"Jewel Ware's service to her community and constituents, especially on behalf of her seniors to which she was devoted, were second to none," said Joe Palamara, Wayne vice chair and member of the MAC Board of Directors. "She was beloved by her friends and colleagues, and all who knew her. She always had a smile and something nice to say. Her caring compassion set her apart from all others. She will be dearly missed."
MAC, CoPro co-sponsor webinar on workplace safety

Protect your work environment and increase peace of mind for you and your team. Join MAC, CoPro+ and SPACE for a short webinar to help you and your employees "Stay Safe, Stay Working and Move Forward." The webinar will run from 3:30 p.m. to 5 p.m. Eastern on Thursday, Dec. 17.
CoPro+, MAC's procurement service for local governments, and SPACE have been awarded a contract that can be accessed by MAC members for the purchase of hand sanitizers, plexiglass dividers and Anew Facility Armor, powered by the BioprotectUS system.
Guest speaker is Dr. Curt White, renowned scientist and inventor. Discover the scientific measures you can take to prevent microbial growth in your workplace.
Treasury webinar details economic prospects for '21, '22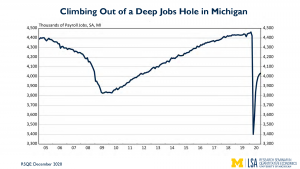 In the latest Treasury webinar in a series co-sponsored by MAC and others, state experts detailed projections for the economy in 2021 and 2022, emphasizing that a rebound in those years should be robust from the effects of the coronavirus pandemic.
Projections are for unemployment in the state to continue falling, reaching under 6 percent by 2022. However, that's still well above the pre-pandemic jobless rate.
Personal income also is bouncing back strongly but will not reach its pre-pandemic levels within the projection period (2021-22).
To see the presentation and recording of the webinar, click here.
Staff picks