Legislative Update 12-3-21
House to vote on 4-year terms next week
MAC continues to urge county commissioners to reach out to their House members to convey their support for two bills that will reinstate county commission terms to four years from the current two- year term. 
Michigan is only one of five states in the nation with two-year terms, which was statutorily changed by the legislature in the 1960's.  All other county offices carry a four-year term, the same holds true for township offices. 
In an era where critical decisions are made by commissioners, now is the time to recognize the importance of a consistent government structure built on institutional knowledge, public service and accountability to our residents. 
SB 242, by Sen. Ed McBroom (R-Dickinson), and SB 245, by Sen. Jeremy Moss (D-Oakland), are tentatively scheduled for final passage in the State House next week after receiving committee approval in early November.  The bills have already passed the Senate with an overwhelming majority. 
Please express your support for four-year terms by utilizing our MAC's digital advocacy tool which will send a prewritten email of support for Senate Bills 242 and 245 to your representative.
MAC also thanks the counties whose boards have passed resolutions of support: Allegan, Alpena, Bay, Berrien, Cheboygan, Chippewa, Clinton, Crawford, Delta, Dickinson, Emmet, Genesee, Houghton, Huron, Ionia, Isabella, Lenawee, Macomb, Manistee, Marquette, Mecosta, Missaukee, Newaygo, Oceana, Ogemaw, Ontonagon, Oscoda, Sanilac, Van Buren, Washtenaw, Wayne and Wexford. If your county has passed a resolution of support, but is not listed here, please contact Hannah Sweeney at sweeney@micounties.org. 
For more information on this issue, contact Deena Bosworth at bosworth@micounties.org.
MAC Board members, staff urge legislators to act on ARP funding
Led by MAC Board President Phil Kuyers of Ottawa County, a MAC contingent joined a Lobby Day at the State Capitol on Tuesday in support of the Prosperity Roadmap proposed by the Coalition for a Strong and Prosperous Michigan.
MAC would like to thank the following board members for spending the day advocating in Lansing for the swift appropriation of federal funds as detailed in our Prosperity Road Map: President Phil Kuyers, Immediate Past President Veronica Kleinfelt. First Vice President Stan Ponstein, Second Vice President Eileen Kowall, Director Jim Storey, and Director Melissa Daub.
The goal of the Coalition is to encourage the Michigan Legislature and Whitmer administration to work swiftly to appropriate Michigan's $6.5 billion in American Rescue Plan (ARP) funds.
MAC is asking all county leaders to join us in advocacy and contact their state representative and state senator using the tool here to encourage them to embrace the Prosperity Roadmap and remind them why we cannot delay investing in our communities.
The longer Michigan delays in investing our ARP allocation, the further we fall behind our neighbors. Projects will take more time to initiate, and the eventual overall impact of our investments will be less. We don't have the time to wait for an ideal situation to act on investment for our communities — the moment is now.
For more information on this issue, contact Deena Bosworth at bosworth@micounties.org.
House committee OKs $308M bill for first responder spending
In bipartisan fashion, the House approved a $368.5 million public safety supplemental spending bill thi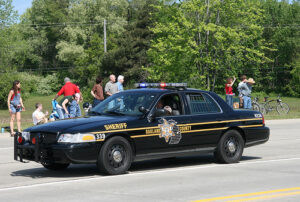 s week. Of the total, nearly $213 million is from the state General Fund and the other $155 million from the state allocation of the American Rescue Plan funds. House Bill 5522, by Rep. Mike Mueller (R-Genesee), largely focuses on law enforcement recruitment and retention, as well as first responder mental health funding:
$57.5 million to incentivize out-of-state officers to move to Michigan; the grant funds have various provisions such as:
paying for 2 years of a maximum contribution into health savings accounts
if the officer is not vested in the defined contribution plan, cover the forfeited employer contribution due to relocation
reimburse fees they paid for hunting and/or fishing licenses and recreation passports
law enforcement agencies that have a vaccine mandate policy will not be eligible to receive grant funding
$7.5 million in grants for behavioral health providers for services to first responder an public safety staff
$10 million for public safety retention bonuses up to $5,000
$5 million for fire and EMS retention bonuses up to $5,000
$10 million in grant to local community policing programs
$10 million to grant signing bonuses, up to $5,000, for new or out-of-state officers and first responders
$11 million in grants for local public safety body-worn camera programs
The House increased funding to the committee-passed version for school resource officers from $10 million to $50 million in the wake of the shooting this week at Oxford High School.
More details are outlined here on the proposal that now heads to the Senate for review.
Senate passes extension of 9-1-1 sunset
The Senate passed, with a unanimous vote, an extension of the sunset on 9-1-1 enabling act and the state surcharges that help to fund this critical public safety service.

House Bill 5026, sponsored by Rep. Julie Calley (R-Ionia), would act as budget implementation for a $16 million one-time appropriation in FY22 to the state 9-1-1 fund to fill a hole created by prepaid revenue coming in lower than expected.  The appropriation allowed the fee for postpaid (contract) phones to remain at 25 cents. Beginning March 1, 2022, prepaid phone fees would increase from 5 percent to 6 percent to ensure equity among revenue sources.
Additionally, the bill includes a review of prepaid fee revenue by Treasury to determine why prepaid phone revenue has been lower than expected. It also has a mechanism to trigger a roll back in fees if revenue is higher than expected.
MAC strongly supports this legislation and appreciates Rep. Calley's leadership and the swift action of the Legislature to ensure an extension prior to the year-end deadline. The bill will now go before the Governor for final signature.
For more information on this issue, contact Meghann Keit-Corrion at keit@micounties.org.
House grants Secondary Road Patrol annual waiver
An annual waiver for secondary road patrol (SRP) was granted by the House this week under House Concurrent Resolution (HCR) 14, sponsored by Rep. Sarah Lightner (R-Jackson).
HCR 14 would waive the maintenance of effort (MOE) requirement mandated for county sheriff's departments as a condition of receiving funding under the SRP Program for FY 2021-22. To be eligible to receive SRP grants, each county must satisfy a maintenance of effort requirement established as the number of county-funded road patrol deputies employed on October 1, 1978.
According to the House Fiscal Agency, the statewide MOE requirement is 1,043 FTE county-funded road patrol deputies, and during FY 2019-20 the actual number of county-funded road patrol deputies totaled 2,307.4, with 115 funded through SRP. While the total number of statewide county-funded deputies exceed the statewide MOE requirement, four counties (Branch, Iosco, Shiawassee, and Wayne) still fell below their individual MOE requirements, thus triggering the need for the legislative waiver.
The resolution would also waive the MOE requirement to allow cities and villages to receive road patrol services from the county sheriff's departments, which would allow them to continue to achieve local cost efficiencies through those joint arrangements.
After years of needing the waiver, Rep. Tommy Brann (R-Kent) also introduced a more permanent solution under House Bill 5569. The bill would update the MOE requirement to be at levels on October 1, 1978, or October 1, 2021, whichever is less.
For more information or questions, please contact Meghann Keit-Corrion at keit@micounties.org.
Senate passes $3.3 billion water supplemental budget bill
Senate Bill 565, sponsored by Sen. Bumstead (R – Newaygo) unanimously passed the Senate this week, allocating over $3.3 billion for investment in water quality, water management, lead line replacement, and dam safety.
Specifically, the bill allocates funding for:
Watershed planning $10 million
Culvert replacement $15 million
Clean water infrastructure $235 million
Dam risk reduction revolving loan fund $650 million
Drinking water program $400 million
Emergency dam safety $30 million
Failing septic system loans $35 million
Great Lakes water authority $400 million
Healthy hydration $85 million
Lead service line replacement $1 billion
PFAS remediation grants $100 million
SAW grants $100 million
Clean water infrastructure grants $200 million
The funding for these programs comes primarily from federal funds from the Coronavirus State Fiscal Recovery Fund, from the Infrastructure Investment and Jobs Act, the Great Lakes Water Quality Bond and $680 million in State General Fund.
Individually and as part of the Coalition for a Strong and Prosperous Michigan, we have been advocating for the movement of supplemental bills that will help our counties and communities tackle the many challenges they face in addressing water quality and water management.  For more information about the Coalition advocacy efforts please see the MI Road Map.
The bill now heads to the House for consideration.  MAC anticipates the bill will change based on different priorities of House members, but the ball is now rolling, and we are encouraged to see movement. The sooner the bill gets to the Governor's desk, the sooner our counties can access funds to help with our water infrastructure.
For more information on this issue, please contact Deena Bosworth at bosworth@micounties.org
The Michigan Department of Treasury announces the next Chart Chat webinar 
The Michigan Department of Treasury is pleased to announce our next Chart Chat webinar at 2 p.m. on Thursday, December 16, 2021.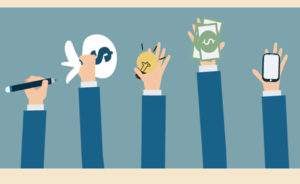 The Chart Chat Webinar Series provides updates to local government officials on accounting-related topics, updates from the Michigan Department of Treasury and information on sound fiscal management.
This Chart Chat webinar will cover:
Requirements for Accepting Federal Funds
Fiscal Indicators – A Recap of All Four and How They Work Together
First Responders Grant Program
To register, please visit:
https://us06web.zoom.us/webinar/register/WN_5a_ki0onSvWK9R1_MI-umQ
We are currently accepting submissions for the questions and answers portion of the webinar. To submit a question, please email LAFD_Audits@Michigan.gov.
Correction: Michigan's 83 counties will have 619 commissioners in 2023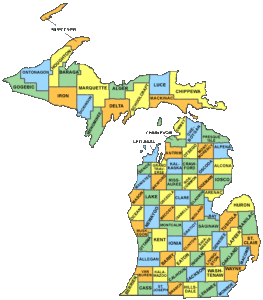 Michigan's 83 county governments will be led by 619 elected county commissioners after the 2022 elections, following decisions this fall by the county apportionment boards. The Nov. 19 Legislative Update had incorrect figures for Oceana County, which changed the total.
The new total is a decrease of 3 commissioners from the current roster of 622 commissioners established after the last census and apportionment process.
Eight counties increased the size of their boards for 2023. The biggest boost was 2 seats, done in 5 counties, including Kent County, which, at 21, will have the largest board in the state on Jan. 1, 2023.
Seven counties reduced the size of their boards, with the largest reduction in Antrim, which is going from 9 districts to 5. Oakland County, which currently has the state's largest board at 21, reduced its board ranks to 19 for 2023. See full corrected list here.
Rules for open meetings revert to old form on Jan. 1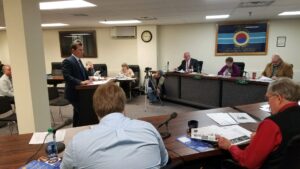 Public meetings in Michigan governed by the state's Open Meetings Act (OMA) will revert to pre-COVID rules on Jan. 1, 2022. This means that commissioners cannot participate in a county board session as a voting member via electronic means, with only one narrow exception.
As detailed in a new memo from the law firm of Cohl, Stoker & Toskey, P.C., the permissive rules for remote participation granted under Public Act 254 of 2020 expire at the end of 2021. At that point, the only way a commissioner can participate remotely as a voting member is if the member must be physically absent due to military duty.
Boards, of course, can continue to livestream their public sessions. And commissioners who cannot be physically present can utilize remote means to listen to the meeting, but they cannot participate or vote as part of the board.
The memo reminds county boards to ensure their board rules, procedures and by-laws are modified to be consistent with the Open Meetings Act.
MDHHS expands Opioid Health Home services to additional counties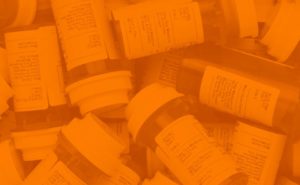 The Michigan Department of Health and Human Services (MDHHS) has expanded the Opioid Health Home (OHH) initiative to more Michigan counties to provide intensive care management and care coordination services for Medicaid beneficiaries with an opioid use disorder (OUD), a move applauded by MAC this week.
"The U.S. Centers for Medicare & Medicaid Services (CMS) recently approved Michigan's State Plan Amendment (SPA) to expand its Opioid Health Home initiative into PIHP Regions 6, 7 and 10. The expanded SPA will allow thousands of Medicaid beneficiaries meeting the eligibility criteria to receive OHH services," MDHHS reported.
A Health Home is a benefit awarded to Medicaid beneficiaries who have a diagnosed with an Opioid Use Disorder and reside within one of the following Prepaid Inpatient Health Plan (PIHP) regions/counties:
PIHP Region 1 (counties in the Upper Peninsula)
PIHP Region 2 (21 northern-most counties of the Lower Peninsula)
PIHP Region 4 (specifically Calhoun and Kalamazoo Counties)
PIHP Region 6 (Lenawee, Livingston, Monroe, Washtenaw)
PIHP Region 7 (Wayne)
PIHP Region 9 (Macomb County)
PIHP Region 10 (Genesee, Lapeer, Sanilac, St. Clair)
"Individuals who meet the criteria are able to work with a team of providers who will attend to a beneficiary's complete health and social needs. Participation is voluntary and enrolled beneficiaries may opt out at any time."
"MAC supports additional and expanded services of this program, which has been extremely successful in many counties so far," said Governmental Affairs Associate Meghann Keit-Corrion.
For OHH-specific information, including eligibility and available resources, visit Michigan.gov/OHH. 
Staff picks