Legislative Update 12-6-19
Budget deal would restore $60 million in key county funds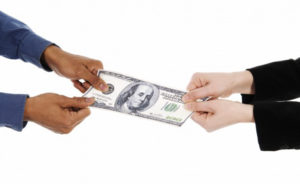 Legislative action on Wednesday to restore approximately $60 million in vetoed state funding for key county services was encouraging, said MAC's executive director this week.  The governor and legislative leaders hammered through a negotiation that ended in an agreement to send a supplemental budget totaling more than $573 million to the governor in exchange for some restrictions on the governor's ability to transfer budget line items via the Administrative Board. 
The deal, although positive, still requires each chamber to vote again next week to send it all to the governor for her signature. MAC, though, is encouraged by the movement on both sides.  "It's late and coming after a great deal of stress for our members," said Stephan Currie, executive director of the Michigan Association of Counties, "but the supplemental spending bills agreed to this week restore the vital funding for our members. We look forward to final passage in the Legislature and Gov. Gretchen Whitmer's signature – and we applaud her and legislative leaders for finding a compromise that puts people over politics."
Whitmer's use of the Administrative Board in the fall had been the key sticking point in resolving the budget impasse arising out of 147 line-item vetoes that, among other things, struck down an array of key county funds.
Now to be restored in new spending bills are:
$27.4 million in PILT (Payment in Lieu of Taxes) for local governments
$14.8 million in county jail reimbursements for the housing of state prisoners
$13.1 million to aid Secondary Road Patrol services by county sheriffs
$4 million in grant money for veteran services
$3.5 million in payments for foster care services provided by counties
The spending bills raced through legislative votes on Dec. 3.
The vetoes and subsequent stalemate had forced counties to begin identifying service cutbacks and layoff targets to balance their fiscal 2020 budgets, as most counties start their budget years on Jan. 1, 2020.
"The focus today is on getting this deal done and helping our members ensure uninterrupted delivery of public safety, social welfare and other basic services," Currie said.
For more information on MAC's work on the state budget, contact Deena Bosworth at bosworth@micounties.org.
Four-year terms for county commissioners stall in Lansing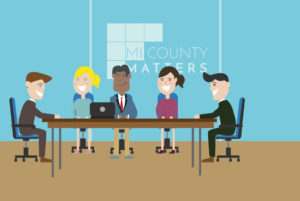 Due to the underlying political current in Lansing, the bills to convert county commissioner terms to four years, beginning with the 2022 election, have stalled in the House. House Bill 4937 and HB 4938, by Rep. Ann Bollin (R-Livingston) and Rep. Sarah Lightner (R-Jackson) respectively, were up for consideration in the House Ways and Means Committee earlier this week. But due to disagreement on whether the elections should take place on a gubernatorial election cycle or a presidential election cycle, the bills were held.
MAC continues to support the bills and will continue to work to find common ground on the issue once the Legislature resumes regular sessions in January. 
For more information, contact Deena Bosworth at bosworth@micounties.org.
State ships out $10 million for public health shortfalls
Counties across Michigan are receiving $10 million from the state after authorization by the Local Community Stabilization Authority. These funds are in addition to the funding received via the regular state budget process.
During the Personal Property Tax revisions made in late 2018, MAC negotiated an additional supplemental payment for counties to help fund public health departments. These funds are authorized to make up for the shortfall that occurs each year from state cost-sharing.
For a list of the amounts to each funding unit, please click here.
For more information, contact Deena Bosworth at bosworth@micounties.org.
DHHS unveils post-298 'vision' on behavioral health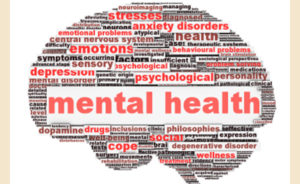 Just weeks after Gov. Gretchen Whitmer struck section 298 mental health funding with her line item veto pen, the Department of Health and Human Services Director Robert Gordon had announced the completion of the pilot projects. Stakeholders could not agree to a path forward and ultimately ended the 298 model. That announcement also stated that the director would be sharing the "department's vision for a stronger behavioral health system" in the coming weeks. This week, the director did just that before joint Senate and House subcommittees on Health and Human Services. 
The director's presentation outlined strengths of the locally based public system, as well as challenges for people using services. He highlighted the main goals of the department as: broaden access to quality care, improve coordination and cut red tape, increase behavioral health investment and financial stability.
The director outlined a new tactic toward mental and physical health integration, through "specialty integrated plans," that would manage individuals with significant behavioral health needs. The director outlined the vision for a system led by a statewide association of CMHs that will have new functions and partnerships.  Additionally, other options will be provided to consumers, but much work is needed to develop a full plan.
The department expects "the new Medicaid-funded integrated health plan will launch in 2022."
Four public forums will be scheduled in January 2020 to hear feedback and questions as policy design and planning move forward.
Additional information can be found at Michigan.gov/FutureOfBehavioralHealth, where there is opportunity to provide comment on this proposal. MAC will also keep members informed of the upcoming public forums hosted by DHHS.
For more information on this issue, contact Meghann Keit at keit@micounties.org.
Erosion raises attention on high water levels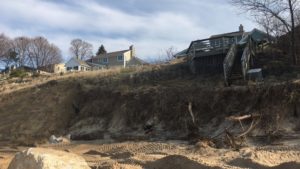 Michigan's 3,300 miles of Great Lakes coastline, as well as inland shoreline, continue to severely erode due to record high water levels in the Great Lakes, causing millions of dollars in losses to public and private property.
All five Great Lakes are at, or above, record high water levels. While water levels rise and fall cyclically, experts suggest levels will continue to rise into 2020. Substantial damage to property, infrastructure and natural resources have occurred over the last three years with higher water levels, but it has become catastrophic in some areas in recent months, with homes slowly falling into the lake and roads being washed out.
The Department of Environment, Great Lakes and Energy (EGLE) is working with local governments and coastal communities to spread awareness and provide insight into its efforts: expediting and streamlining permits for homeowners to protect their homes before they're lost and creation of a new shoreline erosion webpage and customer assistance phone line. To listen an EGLE hosted with local government officials and coastal communities, click here.
In response to a lack of available funding for those who are experiencing erosion issues, a bipartisan group of legislators are urging Gov. Gretchen Whitmer to declare a State of Emergency. An official declaration by the governor would allow the state and federal government to aid with cleanup and prevention costs. Additionally, two counties have passed resolutions urging a state of emergency: Manistee and Berrien.
For more information, contact Michael Ruddock at ruddock@micounties.org. 
Mental health briefings set for Waterford, Escanaba, Gaylord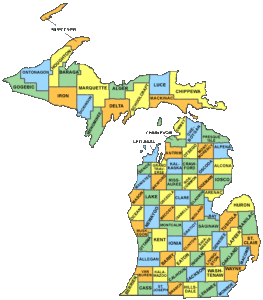 "Managing Mental Health Crisis" is a series of one-day events designed to provide participants with a better understanding of mental illness as it relates to law enforcement.
"Managing a Mental Health Crisis (MMHC) is a culmination of knowledge and skills developed by law enforcement and mental health professionals with the intention of promoting effective and high-quality responses to mental health related incidents," stated the Michigan Department of Health and Human Services, which is co-hosting the events with the Michigan Municipal Risk Management Authority (MMRMA) and The Cardinal Group.
The dates and locations are:
Each session runs from 8 a.m. to 4 p.m. and there is limited seating at each, so act quickly. To make your free registration, contact jericwaddell@thecardinalgroup2.com.
Crawford, Isabella land 'critical community facility' loans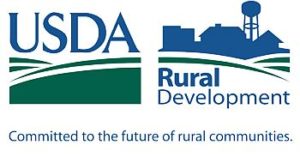 Crawford and Isabella counties will share in approximately $10 million in federal loans for "critical community facilities," the USDA Office of Rural Development has announced.
Isabella County will use a $9,950,000 loan to construct a new facility for the Isabella County Road Commission. The project features an 8,245-square-foot administration building and a 51,780-square-foot maintenance building. This will replace the current 1950s-era facilities.
Crawford County will use a $428,000 loan to purchase a building to be renovated for the county Commission on Aging in a subsequent phase of the project.
The loans were among four issued to Michigan projects included in nearly $400 million in such loans granted nationwide by the USDA.
"Each of these investments will have long-term positive effects on their respective communities as well as the surrounding area," said USDA Rural Development State Director for Michigan Jason Allen.  "By strengthening rural areas and increasing their prosperity, we're also helping Michigan as a whole move forward."
More than 100 types of projects are eligible for Community Facilities program funding. Eligible applicants include municipalities, public bodies, nonprofit organizations and federally recognized Native American tribes. Projects must be in rural areas with a population of 20,000 or less.
Those interested in loans should contact the Michigan Rural Development Office. Also see the Community Facilities Direct Loan Program Guidance Book for Applicants, a detailed overview of the application process.
National news from NACo