Legislative Update 12-9-22
Liquor tax funding change means $25 million boost to counties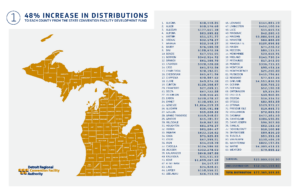 A two-bill package designed to extend the capture of liquor tax revenue that counties use for substance abuse programs passed during the last days of the legislative session this week and will soon mean a $25 million boost to counties.
Senate Bills 1222-23, by Sen Wayne Schmidt (R-Grand Traverse), amend the State Convention Facilities Authority Act to extend the sunset on the capture of liquor tax revenue for improvements to the convention facility in Detroit and therefore extend the sunset on the collection of liquor tax revenue for counties.
The issues were tied together when the act was created. Under current law, the collection and allocation of the liquor tax revenue expires once the bonds for the convention facility are paid off. Due to recent increases in liquor tax revenue, those bonds are scheduled to be paid off 13 years early, which would eliminate the future collection of revenue and deplete the allocation to counties. This two-bill package does not extend the 2039 deadline for the bonds to be paid off, but it does allow the facility authority to issue additional bonds for improvements.  
MAC has been working with representatives from the authority to address our need to have counties' annual allocation reflective of the collection of the liquor tax revenue. Current law states counties receive an increase in their allocation based on a percentage above the previous year's allocation, not on a percentage of the total tax collected. The excess tax collected is instead allocated to the reduction of the bond debt of the authority. (Again, due to the increase in liquor tax revenue, those bonds are scheduled to be paid off early.)
By allowing the authority to issue additional debt for improvements, the bills do something significant for counties. Beginning in 2023, the baseline allocation in liquor tax dollars for counties will increase by approximately 48 percent — or $25 million. (See county-by-county estimates.) The annual increase will remain the same as current law of 1 percent additional each year, but the baseline will be reset every three years to reflect the increase in revenue from the liquor tax.
Also, current law states 50 percent of the liquor tax revenue received by counties must be allocated to substance abuse programs. SBs 1222-23 will change that requirement to 40 percent (though no less than the amount allocated in FY22). In short, this will be a significant increase in funds toward substance abuse programs and an increase in the amount counties can allocate to their general funds. 
The bills are now headed to the governor for her expected signature.
For more information on this issue, contact Deena Bosworth at bosworth@micounties.org.
MAC, others fend off final bid for mental health privatization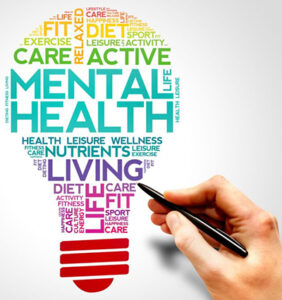 Legislation to privatize control of local mental health services, opposed by MAC and others, was defeated last week after it came up in a surprise vote in the Senate.
Senate Bills 597 and 598, by Sens. Mike Shirkey (R-Jackson) and John Bizon (R-Calhoun), were rejected by votes of 15-17 and 15-19, respectively.
These bills would have shifted financial administration of Medicaid mental health services to private Medicaid health plans, taking away public accountability and local governance and replacing it with for-profit private insurance companies.
A potential deal to incorporate the language from SBs 597 and 598 into a House bill was avoided as well, as the House did not vote on any mental health privatization bills this week.
MAC opposes any attempt to shift toward privatization of our local public mental health system, and we thank our members that contacted their legislators to share their opposition to these bills.
For more information on this issue, contact Samantha Gibson at gibson@micounties.org.
Final '22 episode of Podcast 83 reviews highly successful legislative session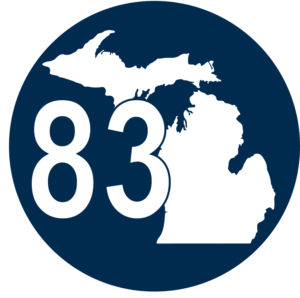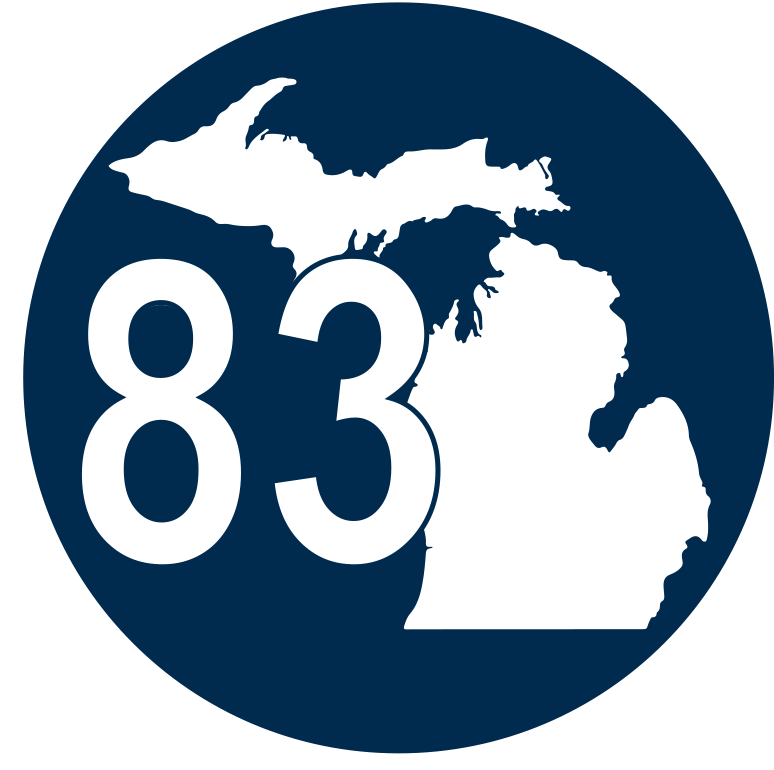 MAC's Podcast 83 closed out its 2022 schedule on Dec. 9 with an episode reviewing a brief but still wacky lame duck legislative session and a lengthy list of county successes in the legislative sphere over the past two years.
During the two days of voting in legislative chambers this week, MAC closed a highly successful Legislature with a flourish with a modification to the state convention act that will mean an additional $25 million in liquor tax revenues for counties.
MAC also succeeded in fending off damaging legislation, such as a bid to privatize local mental health services and unwise changes to the state's Freedom of Information Act.
Director of Governmental Affairs Deena Bosworth and her team of Madeline Fata and Samantha Gibson also detailed to Podcast host Stephan Currie a number of highlights from the 2021-22 work:
Four-year commissioner terms, which begin with the 2024 election cycle
Reauthorization for trial court fee authority, avoiding a $50 million gap in court funding
Reform of Secondary Road Patrol funding that ensures year-to-year stability
A 6 percent increase in county revenue sharing for fiscal year 2023
This episode and previous ones in 2022 can be seen at MAC's YouTube Channel.
And you always can find details about Podcast 83 on the MAC website.
In closing the year, MAC wishes to thank Comcast for its support of Podcast 83 in 2022.
Bid stalls to reform veteran property tax reimbursements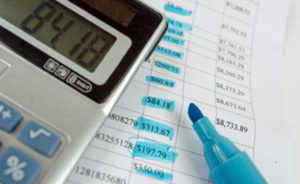 Changes to local reimbursements for property taxes exempted for disabled veterans appear dead for 2022. In a last-minute decision, the House took up Senate Bills 783 and 1084, by Sen. Jon Bumstead (R-Muskegon), during their last voting session day of lame duck session and passed them with bipartisan support. The bills would have expanded the disabled property tax exemption to those that were 50 percent disabled and capped the amount of their exemption at $2,500.
Unfortunately, the bills were amended in the House and the Senate adjourned before concurring in those changes. And because the Senate did not concur, the bills will not likely get presented to the governor unless, by some very rare chance, the Senate resumes voting before the last day of 2022.
MAC will continue to advocate for the enactment of the reforms in the new legislative session in 2023.
For more information on this issue, contact Deena Bosworth at bosworth@micounties.org.
Tweak to County Veteran Service Fund rules advances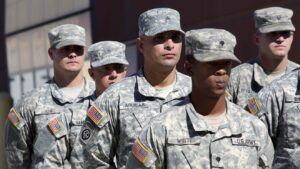 A bill to change the distribution structure of the County Veteran Service Fund gained broad approval from the Legislature this week and is headed to the governor.
The County Veteran Service Fund, established by the Legislature in 2018, was created to encourage counties to establish and maintain County Veteran Service Offices. The fund ensures counties are eligible for a $50,000 grant annually, plus additional funding based on the number of veterans living within the county.
By unanimous vote this week, the Senate approved House Bill 6377, by Rep. Roger Hauck (R-Isabella), which says counties must maintain a minimum county veteran service funding level of 70 percent of the funding level from FY 2017 in order to receive the $50,000 grant from the County Veteran Service Fund. The 70 percent funding level requirement was previously only for FYs 2021 and 2022. HB 6377 extends the requirement to FY 2023 and beyond.
Gov. Gretchen Whitmer is expected to sign the bill, which was backed by MAC.
For more information on this issue, contact Samantha Gibson at gibson@micounties.org.
Larger reimbursement for PPT exemptions dies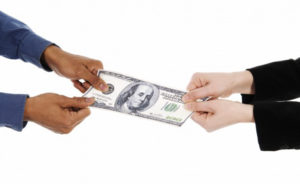 Despite commitments from House and Senate leaders last December, local governments will not have a reimbursement mechanism in place to replace the Personal Property Tax (PPT) revenue loss stemming from the small taxpayer exemptions in the economic development supplemental budget enacted a year ago.
MAC spent months working with the Senate, the administration and the business sector on a method for reimbursing counties for PPT losses arising from the dollar threshold expansion of the small business exemption. Legislation to enact this, Senate Bills 1060-62, passed the Senate unanimously in June, but staunch Republican opposition in the House ran out the clock in Lansing this week.
The approximate $75 million price tag of this exemption was pre-funded as part of the economic development deal last year. But this process still needed the implementing legislation prior to distribution. This $75 million was to be spread across all local units of government and is not reflective of the total loss for counties.
MAC will resume efforts for reimbursement language in early 2023 in order to make counties whole in FY 2023. With strong Democratic support, and the support of the governor, we are hopeful we can get this enacted quickly.
For more information about this issue, contact Deena Bosworth at bosworth@micounties.org.
Legislature makes surprise move to update solid waste law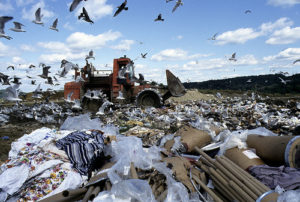 A package of bills that will place new reporting and coordination burdens on counties was approved by the Legislature on the last day of the lame duck session. The legislation modifies Part 115 of the Natural Resources and Environmental Protection Act, which deals with solid waste management.
House Bills 4454-61 amend the language describing the purpose of Part 115 to include recycling and reusing materials. Substitutes were introduced by Sen. Aric Nesbitt (R-Van Buren) to include provisions for chemical recycling.
MAC has been engaged with stakeholders and bill sponsors since the package was introduced back in March 2021. While MAC supports updating Part 115 — which has not been updated in many years and does little to promote recycling efforts in Michigan — we have remained neutral on this package because of the added burdens for counties.
Each county will be required to create a Materials Management Plan (MMP) and receive approval from the state Department of Environment, Great Lakes, and Energy, as well as township officials. HB 4461 creates a fund to help counties develop their MMPs, but the Legislature will need to approve an appropriation each year to fill the fund. This funding mechanism is, in MAC's view, both unreliable and undesirable.
This legislation was presumed dead after it passed the House in and was referred to the Senate Committee on Regulatory Reform in April 2021, but, as they say, expect the unexpected during a lame duck session. It received bipartisan support in both the House and Senate on Wednesday and will now be presented to the governor for signature.
For more information on this issue, contact Madeline Fata at fata@micounties.org.
Allegan and Kalamazoo to get more circuit court judges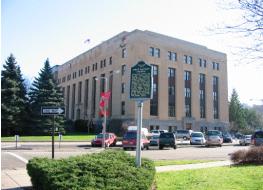 A bill to add circuit court judgeships in Allegan and Kalamazoo counties passed in the House this week, its final step before a signature by the governor.
Senate Bill 1047, by Sen. Sean McCann (D-Kalamazoo), would allow the 9th Judicial Circuit, which consists of Kalamazoo County, to add one additional judge, effective Jan. 1, 2025, increasing the number of judgeships from four to five. It specifies that the term of office for the judgeship would be eight years. The bill also allows the 48th Judicial Circuit, covering Allegan County, to have one additional judgeship beginning Jan. 1, 2025, increasing the number of judgeships from one to two.
Gov. Gretchen Whitmer is expected to sign SB 1047, which was backed by MAC.
For more information on this issue, contact Samantha Gibson at gibson@micounties.org.
Legislature approves changes to patient visitation during epidemics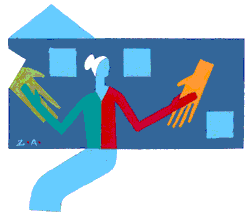 A bill to alter how emergency orders can limit visits to patients in health care facilities gained final legislative approval this week.
On Wednesday, the House approved Senate Bill 450, by Sen. Jim Stamas (R-Midland). The bill was previously voted out of the Senate in May.
Under SB 450, which awaits Gov. Gretchen Whitmer's signature, an emergency order issued under the Public Health Code could prohibit or limit visitation of a patient in certain health care facilities for up to 30 days, as of June 1, 2023. After 30 days, even if the emergency order were to be extended, the order could not restrict visits to a patient or resident.
SB 450 also allows an emergency order to require prescreening or testing of persons allowed to visit a qualified health facility. The Michigan County Medical Care Facilities Council, which represents the county-owned facilities in Michigan, supported the legislation.
For more information on this issue, contact Samantha Gibson at gibson@micounties.org.
Staff picks