Legislative Update 2-18-22
State commits $1.2 billion to health response on COVID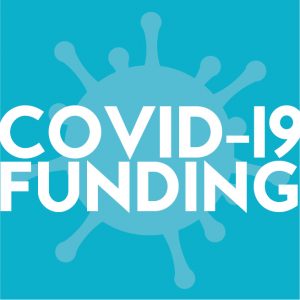 A supplemental appropriation bill signed by Gov. Gretchen Witmer this week commits $1.2 billion to health care efforts in response to the COVID-19 pandemic.
The bill, now Public Act 9 of 2022, includes appropriations to address health worker recruitment and retention, plus funding for COVID-19 early treatment and various testing supports.
Highlights of the spending bill include:
$300 million for eligible health care recruitment, retention and training programming for new investments. A health care provider must demonstrate an eligible qualifying need under the rules and regulations of the federal coronavirus state fiscal recovery funding and must not request funds for any investments related to recruitment or retention announced before Dec. 1, 2021. The bill also requires 75 percent be allocated for acute care and behavioral health care providers, which would be administered by the Michigan Health and Hospital Association, and requires 25 percent be allocated to post-acute care providers and Federally Qualified Health Centers.
$10 million as a competitive grant program for nursing facilities to convert multi-resident rooms into single-resident rooms. Grant awards would reimburse 50 percent of the cost, and the Michigan Department of Health and Human Services (MDHHS) would have to prioritize converting rooms with more than 2 residents into single-resident rooms.
$29 million to assist nursing homes fund physical repairs and improvements of the facility. There is a $500,000 cap for each nursing home.
$29.7 million to local and tribal health departments, as well as schools, to support staffing costs of COVID-19 testing and contact tracing. Of this, $14.9 million specifically goes to school districts, public school academies, intermediate school districts and nonpublic schools. The bill prohibits MDHHS from allocating funds to any local public health departments in which a county board of commissioners has passed a resolution rejecting these funds within 30 days of effective date of this act.
$10 million for programs and planning for a new state public health and environmental science laboratory.
A further detailed analysis can be found here.
For more information, please contact Meghann Keit-Corrion at keit@micounties.org.
Michigan delegation to NACo event attends Biden speech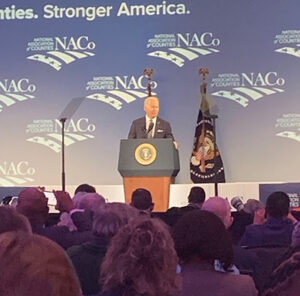 A delegation of more than 30 county commissioners and other county leaders led by MAC Board President Phil Kuyers of Ottawa County attended the National Association of Counties Legislative Conference in Washington, D.C., this week.
One of the highlights of the event was a Tuesday address by President Joe Biden to a general session of the conference that included a reference to our own Oakland County. (See the 9:10 mark of this video.)
To make room for Biden's address on the schedule, MAC and the offices of U.S. Sens. Debbie Stabenow and Gary Peters were forced to scrub the traditional Senate briefing for Michigan county leaders on Capitol Hill, which had been slated for Tuesday afternoon.
Michigan leaders were able to attend a wide array of policy briefings on challenges before county government, including housing shortages and affordability, cybersecurity and implementing the 988 call line on suicide prevention.
MAC also hosted a reception on Tuesday evening for Michigan attendees to catch up and exchange notes.
"The president's address to county leaders was the capper of an excellent conference," said Stephan W. Currie, executive director. "As our members continue to develop their investment plans for American Rescue Plan funds, the conference sessions will prove invaluable."
For a complete rundown of conference activities and resources, click here.
Coalition launches investment tracker on ARP funding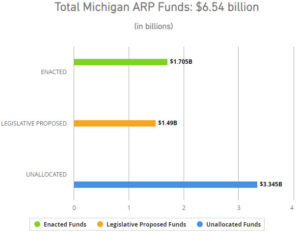 The Coalition for a Strong and Prosperous Michigan, a group of private and public sector groups including MAC, recently launched a tracker so Michigan residents can see what the Legislature and Gov. Gretchen Whitmer are doing with American Rescue Plan (ARP) funds.
To see the tracker, click here.
"This visual illustrates the Coalition's bold vision for strategic investment of Michigan's available ARP allocation," the coalition announced with the data seen at right. "Significant work remains to strategically invest more than $6.5 billion in the key areas recommended by the Coalition proposal."
MAC continues to work with coalition partners to brief legislators on its plan to pair state and local ARP funds to create historic investments in public services.
For details on the coalition's Roadmap to Prosperity, click here.
Join MAC for important update on opioid settlement
MAC, in partnership with the state and other local government groups, will be hosting a webinar on the National Opioid Settlement on March 2 from 3 p.m. to 4 p.m.
Use this URL to join the webinar: https://us02web.zoom.us/j/81195931850?pwd=eXJWeVBKT0wxSG1LUHErcTJFMEg4Zz09
The webinar will provide an opportunity for local elected officials to learn more about the timeline and eligible uses of funds, as well as offer insights to best practices from state partners.
Presenting at the webinar will be:
Dr. Debra Pinals, medical director of the Behavioral Health and Forensic Programs for the Michigan Department of Health and Human Services and the director of the Program in Psychiatry, Law, & Ethics and Clinical Professor of Psychiatry at the University of Michigan Medical School and Clinical Adjunct Professor at the University of Michigan Law School.
Matt Walker, assistant attorney general in the Corporate Oversight Division. Matt works on Michigan's opioid litigation and serves as the Attorney General's designee on the governor's Opioid Task Force.
There will be time for Q&A during the webinar, or feel free to email questions directly to Hannah Sweeney at Sweeney@micounties.org prior to March 2.
State offering $400 million to aid businesses, job growth

A new grant program will offer $409 million in grants to aid businesses and create jobs, Gov. Gretchen Whitmer announced this week.
Under the program, which begins March 1, "eligible businesses in operation before Oct. 1, 2019, may receive a percentage of their loss in total state sales through a grant, up to $5 million. Eligible businesses that began operating between October 1, 2019, and June 1, 2020, may receive a grant equal to 25 percent of certain specified costs. The grants may be prorated depending upon the number of businesses that apply to ensure that all eligible businesses can receive funding," the governor's office explained in a statement.
Businesses must submit a completed online application to the Michigan Department of Treasury no later than 11:59 p.m. EST on March 31. Grant awardees will be notified in the spring and grant awards will be distributed by July 1, 2022. 
The application will become available at 8 a.m. EST on March 1 at www.michigan.gov/abr. 
Businesses interested in applying are encouraged to attend one of the following informational webinars hosted by the state Treasury Department: 
Tuesday, Feb. 22, 10 a.m.-11 a.m. EST 
Monday, March 7, 1 p.m.-2 p.m. EST 
Details for signing up for a webinar can be found on the grant program's website.  
To learn more about the Afflicted Business Relief Grant Program or read frequently asked questions, go to www.michigan.gov/abr. 
MAC offices closed on Monday, Feb. 21
MAC's Lansing offices will be closed on Monday, Feb. 21 to observe the federal Presidents Day holiday.
Normal office hours will resume on Tuesday, Feb. 22.
Staff picks