Legislative Update 5-5-23
MAC needs your help in stopping attack on local control over mining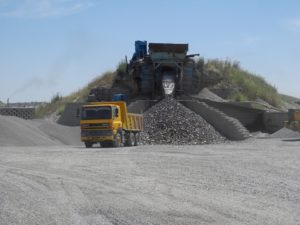 Legislation preempting local control over sand and gravel mining was introduced this week in the House. In a joint statement with the Michigan Townships Association (MTA) and Michigan Municipal League (MML), MAC opposed House Bills 4526, 4527 and 4528, by Reps. Pat Outman (R-Montcalm), Tyrone Carter (D-Wayne), and Angela Witwer (D-Eaton) respectively, which aim to eliminate local control of aggregate mining operations and place the regulating authority in the hands of the Department of Environment, Great Lakes, and Energy (EGLE).
Should this legislation become law, local governments would have no jurisdiction over the issuance of a permit, approval, or other authorization for the location, operation, abandonment, or reclamation of an aggregate mine. EGLE is being granted the authority to usurp local officials to work directly with the aggregate industry to approve mining sites and their activities, with little to no community input.
MAC, MTA, and MML worked together last term to block nearly identical legislation. This move would set a dangerous precedent on preemption of local control in other policy areas.
There has been a lack of transparency from the legislature during this process. Local input has not been sought on this legislation, indicating an unwillingness to negotiate.
HBs 4526-28 have been referred to the House Committee on Regulatory Reform. We anticipate they will be approved by the committee next Tuesday, May 9.
MAC has set up an easy digital campaign for you to send your opposition to your state representative. To begin, just click this link TODAY!
Your voices are vital during this process. There is power in numbers!
For more information on this issue, contact Madeline Fata at fata@micounties.org.
State nixes Camp Grayling expansion after locals weigh in
Following input from county officials, the Department of Natural Resources (DNR) has rejected the Department of Military and Veterans Affairs' proposal to expand Camp Grayling in Crawford County.
The DMVA sought to lease 162,000 acres of DNR-owned land surrounding the National Guard's Camp Grayling facility for additional training activities for a 20-year period. The rejection came after a great deal of pushback from residents and public bodies in the area.
The counties of Crawford, Iosco, Kalkaska, and Roscommon all opposed the expansion. There were concerns that the training activities would negatively impact the quality of life for the communities surrounding Camp Grayling due to potential groundwater contamination, noise pollution, etc. Additionally, the land the DMVA desired is suitable for recreational activities and many advocated for its preservation.
There is a Memorandum of Understanding between the DNR and DMVA that would allow the DMVA to reapply for a portion of the land for low-impact training operations. Should this be approved, the DMVA would only have access to 52,000 acres and it would remain open to the public. The DNR has not yet indicated whether they would approve this application.
For more information about MAC's land-use policies, contact Madeline Fata at fata@micounties.org.
Podcast 83: State budget could be quite good for counties, but key hurdle looms on May 19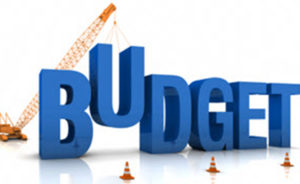 Host Stephan Currie led MAC governmental affairs associates Samantha Gibson and Madeline Fata through the recent budget activity in Lansing that directly affects the county bottom line in the latest episode of Podcast 83.
Among key points made during the episode:
Counties could see a big increase in revenue sharing funds if the House and Gov. Gretchen Whitmer get their way.
County reimbursement via the Child Care Fund could be headed to 75 percent, from the current 50 percent.
Majority Democrats on transportation spending panels voted to spend more money on infrastructure than Gov. Whitmer requested.
All this budget work, however, hinges on the results of the Consensus Revenue Estimating Conference scheduled for May 19. At that point, legislators will know exactly how much revenue is available for use in the fiscal 2024 budget.
Currie and guests also recapped MAC's recent Legislative Conference, which was highlighted by a panel of legislative leaders discussing their views on key county topics.
See the full video of the session, taped on May 1, 2023.
Previous episodes can be seen at MAC's YouTube Channel.
And you always can find details about Podcast 83 on the MAC website.
Opioid settlement webinar series starts on May 16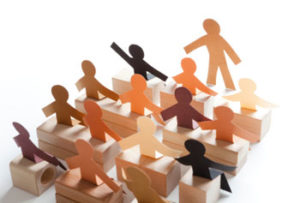 On May 16, the first of many webinars in an Opioid Settlement Technical Assistance Learning Series will be held. The series is hosted by the Michigan Department of Health and Human Services (MDHHS), in partnership with Michigan State University, the University of Michigan and Wayne State University, as part of their Technical Assistance Collaborative.
The webinars are intended to provide information from experts for officials and representatives from counties, municipalities and townships, including community members, to aid in their opioid settlement investment processes. The first webinar, titled "Determining Local Needs and Assets through Engaged Community Assessment" will focus on how to engage community stakeholders to assist in understanding the needs and assets of the community.
Click here to see the flier and to begin your registration process.
For more information on opioid settlements and technical assistance, contact MAC's Amy Dolinky at dolinky@micounties.org.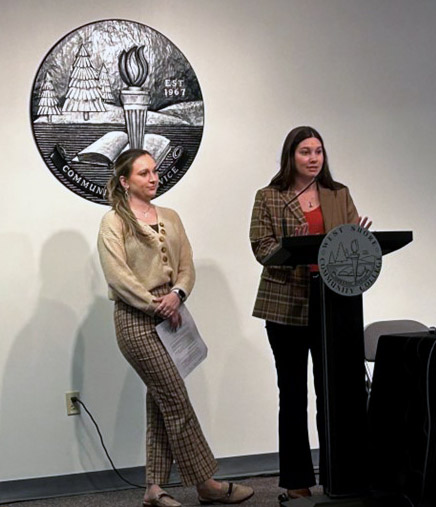 MAC staffers brief West Central commissioners on legislative activity
County leaders from Lake, Manistee, Mason, Mecosta, Newaygo, Oceana and Osceola received a legislative update from MAC's Madeline Fata (right) and Samantha Gibson this week during a West Central Michigan Counties Association meeting in Mason County.
Report gives evidence-based options on using opioid funds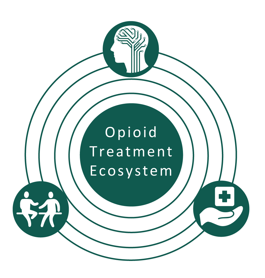 Evidence Based Strategies for Abatement of Harms from the Opioid Epidemic is a report that was created by Harvard Medical School, Blavatnik Institute for Health Care Policy and a team of authors. The authors describe this resource as having three main focuses:
"Generating a list of evidence-based abatement options, describing the infrastructure and context required to successfully implement such efforts, and assembling existing evidence about the potential impact of abatement options."
"Providing cost estimates for scaling the activities."
"Considering how the political, financial, and infrastructure circumstances of states may make some packages of abatement programs more practical than others."
This resource provides tables within in strategy that outline a summary of the strategy, supporting evidence and information on outcomes and the level of support for each strategy. Information is presented related to different forms of treatment, primary care and hospital settings, recovery supports, harm reduction, individuals involved with the criminal-legal system, families and communities, data and policies. This report provides in-depth information and context around public health activities that can serve as a type of menu of options for local governments determining the most appropriate evidence-based strategies for their communities.
For more information on opioid settlements and technical assistance, contact MAC's Amy Dolinky at dolinky@micounties.org.
Seven Michigan county officials graduate from NACo academy

MAC congratulates the January 2023 NACo Leadership Academy graduates from Michigan. They join more than 6,000 graduates and current participants from across the country benefitting from the 12-week online program enabling existing and emerging county leaders to achieve their highest potential:
Erika Espeland, GIS director, Cass County
Monica McMichael, clerk/register, of deeds, Cass County
Ryan Laylin, commissioner, Cass County
Tami Stewart, equalization director, Cass County
Trudy Galla, planning director, Leelanau County
Nathan Roskey, administrator/controller, Sanilac County
Tyler Ray, animal control director, Tuscola County
The August cohort for the High Performance Leadership Academy is just around the corner. Prioritize leadership development today and deliver results for your team and county. Scholarships are available, including a fee of only $1,000 for the first person to register from a county that has not previously participated in the program. 
Staff picks