Legislative Update 7-29-22
Higher county reimbursements backed by Juvenile Justice Task Force


Michigan counties would receive a higher reimbursement rate on some juvenile services under a proposal unanimously backed by members of a state Task Force on Juvenile Justice Reform this month.
The panel's report advises a boost in the community-based service/supervision reimbursement rate for counties to 75 percent, from the current 50 percent to 75 percent. The recommendation is to keep the reimbursement rate for residential services at 50 percent, however.
Wayne County's Alisha Bell and Shiawassee County's Marlene Webster represented MAC in the task force's work for more than a year, along with a diverse group of representatives, to recommend reforms that improve public safety and outcomes for youth and families.
Among other key recommendations, the panel advised:
keeping youth under 13 years old out of juvenile court
creating a statewide juvenile public defense system
expanding diversion opportunities for youth
increasing funding availability for community-based prevention and intervention
implementing screening and assessments to inform decisions about supervision and services
developing standards for residential placements and reentry supports for youth
investing in quality assurance mechanisms to ensure resources are used efficiently
MAC is pleased with the task force's work and supports the key recommendations made to advance positive outcomes for Michigan's youth. We anticipate legislation to be introduced this fall to implement the recommendations.   
For more information on this issue, contact Deena Bosworth at Bosworth@micounties.org.
Register for Annual Conference before key deadlines hit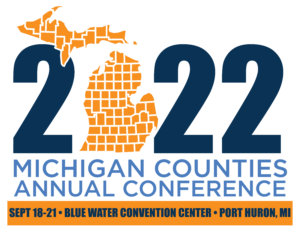 With hotel rooms renting quickly and an early-bird registration rate soon to expire, county officials are urged to act quickly to get the best possible deals to attend the 2022 Michigan Counties Annual Conference in St. Clair County, Sept. 18-21.
The conference will be headquartered at St. Clair County's Blue Water Convention Center in Port Huron at the southern end of Lake Huron.
While the adjacent DoubleTree hotel is sold out, about 40 rooms remained, as of Thursday afternoon, at the nearby Comfort Inn for a special rate of $129 per night. (A free shuttle service will run between the Comfort Inn and the conference center and there is plenty of free parking at the conference center as well.)
County officials who have not yet registered should be aware of some looming deadlines:
Aug. 6 – End of the special room block rate of $129 at the Comfort Inn in Port Huron
Aug. 10 – End of the early-bird conference registration rate of $395 for MAC members and affiliates
The Annual Conference will feature:
Four plenary sessions featuring key issues now before Michigan and a MAC Legislative Update (Speakers will be announced soon.)
12 breakout sessions for MAC members and 6 workshops for MCMCFC members (Speakers will be announced soon.)
A Welcome Reception and Strolling Dinner on the evening of Sunday, Sept. 18.
A reception sponsored by MAC's CoPro+ subsidiary on Monday evening, before attendees are shuttled into downtown Port Huron for a "dinner on your own" night.
A lavish President's Banquet on the night of Tuesday, Sept. 20.
Members of MCMCFC will enjoy specialized breakouts designed for its members to earn Nursing and NAB Continuing Education credits. And MAC members attending the conference will receive credits in MAC's County Commissioner Academy.
The early-bird conference fee of $395 provides members full access to all conference activities. (The spouse fee also provides access to any conference event, including the President's Banquet on the evening of Sept 20.) This fee includes two dinners, two receptions, two breakfasts and two lunches. On Aug. 11, the member fee will increase to $425, while the spouse rate will rise to $175.
NOTE: The member rate is open to all county commissioners, administrators, countywide elected officials and county employees of MAC member counties, plus employees and board members of MCMCFC facilities.
Hotel details
Rooms at the Comfort Inn are $129 per night. The Comfort Inn is located at 1720 Hancock St., Port Huron, MI 48060. To book your room reservations, call 810-987-5999. Group Name: MAC.
Please direct any conference registration questions or issues to conference@micounties.org.
Policy Summit tackles housing challenge, reviews trail system benefits
Dozens of county leaders came to Lansing or logged in digitally Thursday for MAC's first Summer Policy Summit, held blocks from the Michigan State Capitol.
The Policy Summit, which replaced MAC's Regional Summits, featured four major policy briefings on:
Challenges in workforce housing
Michigan's trails system and its benefits
Michigan's political dynamics in 2022
Ideas to maximize infrastructure dollars
"We've received great feedback from members who participated in this new version of our summer policy event," said Executive Director Stephan Currie, who served as master of ceremonies for the event. "We look forward to honing this member service and delivering it to larger audiences."
Tonya Joy, director of the state's Housing Initiatives Program (joyt@michigan.gov), strongly urged attendees to engage with her office to report on their community housing needs and any local plans that have been developed to maximize state resources.  "Reach out to me and I can put you in touch with the right person at MSHDA," Joy said, adding, "I'm in the right place today because the message is going to get to the right people."
Later in the day, Matt Grossman, director of the Institute for Public Policy and Social Research at Michigan State University, reviewed the trends of nationalization and polarization in Michigan politics: "We have nationalized elections. Whatever is happening at the national level will be reflected at the state level, too."
Presentations from the sessions will posted to the MAC website next week. And MAC will post videos of some segments on its YouTube Channel in coming days.
MAC Board president leads Michigan delegation to NACo Annual Conference
MAC Board President Phil Kuyers of Ottawa County led a delegation of approximately 40 county leaders from Michigan to the 2022 National Association of Counties (NACo) Annual Conference, held in Adams County, Colorado.
In addition to participating on various NACo committees and attending policy briefings, Michigan leaders voted on NACo policy platforms and in the election of NACo's second vice president, a contest won by James Gore, supervisor of Sonoma County in California.
"A NACo conference really highlights just how many areas of American life that county governments affect," said Stephan W. Currie, executive director of the Michigan Association of Counties. "For our commissioners, staying on top of policy changes is a full-time job in itself, which is why we encourage our members to attend every year, since NACo does such as great job on policy briefings."
If you are interested in getting involved with a NACo committee, contact Currie at scurrie@micounties.org.
Internal controls will be subject of next 'Fiscally Ready' webinar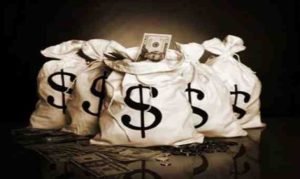 County leaders should be signing up now for the next session in the "Fiscally Ready Communities" webinar series set for Aug. 4 from 10:30 a.m. to noon.
The Michigan Department of Treasury and Michigan State University Extension (MSU Extension) co-sponsor this free training opportunity that is designed to assist appointed AND elected officials.
The Aug. 4 session will be on "Managing Internal Controls" and will cover:
Building a culture of fiscal sustainability
The role of internal controls in fiscal sustainability
Understanding internal controls and their importance
How internal controls help strengthen your community
Best practices for internal controls implementation
For more information about Fiscally Ready Communities, please check out the Treasury Fiscally Ready Communities webpage. This webpage includes Treasury's 32-page Fiscally Ready Communities Best Practices document, which we encourage all local officials to review.
Staff picks