Legislative Update 9-22-23
Expansion of binding arbitration clears Senate committee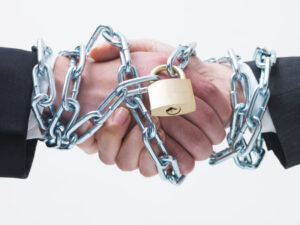 Legislation to extend binding arbitration to county correctional officers has advanced this week, despite opposition from MAC and others.
House Bill 4438, by Rep. Kelly Breen (D-Oakland), was approved by the Senate Labor Committee unanimously on Thursday. A substitute was adopted during the committee process to include all Michigan Commission on Law Enforcement Standards (MCOLES) certified law enforcement officers in binding arbitration, adding officers from universities and community colleges.
MAC has long opposed any expansion of binding arbitration to other bargaining units due to the cost of the process, the long-term liabilities associated with third-party decisions and the unequal treatment such a system provides to those bargaining units. The Michigan Public Employment Relations Act already provides for bargaining rights without tying the hands of the county in binding arbitration.
MAC submitted a letter to committee members expressing these concerns. However, the current Legislature has time and again demonstrated strong support for unions and collective bargaining units. HB 4438 has been referred to the Senate floor for a final vote before likely advancing to the governor's desk for signature.
For more information on this issue, contact Madeline Fata at fata@micounties.org.
MAC brokers improvements on indigent defense bills


Following key revisions brokered by MAC, legislation to expand the Michigan Indigent Defense Commission's (MIDC) work to youths has the support of counties, a MAC staffer told a special legislative hearing this week.
House Bill 4630, by Rep. Sarah Lightner (R-Jackson), and Senate Bill 424, by Sen. Sue Shink (D-Washtenaw), would have MIDC include youth indigent defense services.
In her testimony (19-minute mark of video), MAC's Samantha Gibson detailed how MAC's concerns about a compounding clause for the local share for MIDC services and disbursement rules were addressed. The compounding clause is gone, and the bills now would create the following disbursement model: 40 percent of the total annual grant amount upfront, and the remaining 60 percent of the grant will be disbursed in three equal increments.
MAC now supports this legislation, which is expected to be voted on in committee next week.
For more information, contact Samantha Gibson at gibson@micounties.org.
Lansing's a legislative blur; Podcast 83 is here to bring issues into focus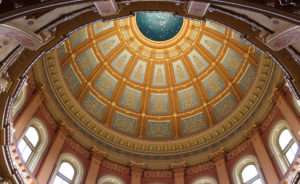 Legislative work in Lansing is accelerating and MAC's Podcast 83 team is your guide to everything going on at the State Capitol.
In their newest episode, host Stephan Currie and MAC staffers Deena Bosworth, Madeline Fata and Samantha Gibson detail the news, including:
A huge advance on revenue sharing reform, with a House committee giving unanimous and bipartisan support to MAC's plan for a dedicated Revenue Sharing Trust Fund;
The debate over the scope of, and reimbursement for, property tax exemptions for veterans, which are now costing local governments around $100 million a year; and
MAC's work to bring a reasonable approach to how Michigan regulates the siting of solar and wind energy projects.
View the full video of the episode, recorded on Sept. 18, by clicking here.
Previous episodes can be seen at MAC's YouTube Channel.
And you always can find details about Podcast 83 on the MAC website.
Counties asked to send shutdown impact data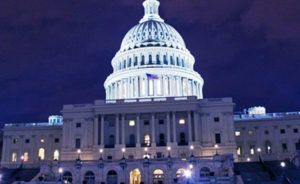 With a federal government shutdown looming, MAC and the National Association of Counties need your help in collecting information on the impact of a shutdown on local public service delivery.
NACo will share this information with members of Congress and their staff as negotiations continue on Capitol Hill.
Please share any data/anecdotes or individual letters that outline the impacts during previous government shutdowns with MAC by emailing them directly to despins@micounties.org.
We appreciate your assistance on this matter.
Days dwindling to register for 2023 Annual Conference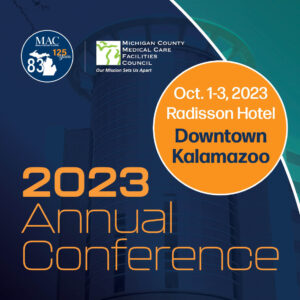 County leaders still have a few days left to complete their online registration for the 2023 Michigan Counties Annual Conference in Kalamazoo County Oct. 1-3.
Click here for Attendee Registration
In honor of MAC's anniversary year, the annual President's Banquet will be capped by music in the ballroom of the Radisson Hotel in downtown Kalamazoo.
Additional highlights for this year's event are:
A two-part, two-day dive into the details of Public Act 51, the state's road funding formula via workshops held on Sunday afternoon and Monday morning
Plenary sessions on affordable housing and bridging generational differences in the workplace,
MAC's Annual Business Meeting, during which members will review and approve MAC's policy platforms for the coming year
Exhibitor Bingo and special raffles that will offer cash prizes to lucky attendees
The schedule of the conference is carefully crafted to respect members' weekly schedule, with conference registration opening around noon Sunday and events concluding prior to hotel check-out on Tuesday morning.
Commissioners who attend the conference will earn 3 credit hours for MAC's County Commissioner Academy.
Conference Registration Prices
Member* – Full Conference Rate: $490
Member* – Single Day Rate: $325
Non-Member – Full Conference Rate: $565
Non-Member – Single Day Rate: $385
Spouse/Guest Rate: $250
*The following are eligible for the member rate: county commissioners, county administrators, countywide elected officials, county staffers and staffers of MAC affiliates.
Hotels
The Radisson Plaza Hotel at Kalamazoo Center is now SOLD OUT. For other hotel options in the area, visit the website of the Kalamazoo Convention and Visitors Bureau. 
New data sources offered for opioid settlement planning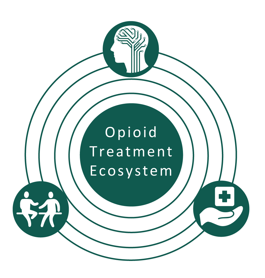 County-level data is available to assist with opioid settlement planning from new sources. These tools and existing data sources, found under "Local Level Data" in MAC's Opioid Settlement Resource Library provide a strong basis for understanding local needs and the scope of the drug overdose crisis and associated areas. 
NORC at the University of Chicago and the U.S. Department of Agriculture Rural Development have created a community assessment tool detailing county-level data highlighting socioeconomic factors in relative to the opioid crisis. The National Opioid Misuse Community Assessment Tool is interactive and provides data visualizations and tables for local use.
NORC and East Tennessee State University, funded by the HRSA Federal Office of Rural Health Policy have released the Recovy Ecosystem Index Mapping Tool. This tool looks at fourteen (14) indicators associated with a recovery ecosystem, such as the continuum of substance use disorder support and infrastructure, to assist with understanding the current landscape and needs.
Duke-Margolis Center for Health Policy and Third Horizon Strategies, funded by Elevance Health Foundation, developed another data tool to assist in planning efforts. The Opioid Abatement Needs and Investment Tool looks at five social determinants of health domains (healthcare, environment, economic, education, and social) and identifies a counties need in that area, while pointing to examples of strategies and programs to address those areas of need.
To understand more about what data local governments have access to through their local public health departments, register for our upcoming webinar, Overdose in Our Backyard: Resources and Collaboration for Opioid Settlement Spending.
For more information, contact Amy Dolinky at dolinky@micounties.org.
Operation Green Light will honor nation's veterans
America's counties have a long and proud history of serving our nation's veterans, a legacy that continues to this day as we work with our federal, state and local partners to ensure that the former service members have access to the resources they need to thrive.   
Once again this Veterans Day (Saturday, Nov. 11, 2023), the National Association of Counties (NACo) and the National Association of County Veterans Service Officers (NACVSO) invite the nation's 3,069 counties, parishes, and boroughs to join Operation Green Light and show support for veterans by lighting our buildings green from Nov. 6-12. By shining a green light, county governments and our residents will let veterans know that they are seen, appreciated and supported.  
To show support, counties are encouraged to use this template to pass a resolution declaring your county's participation in Operation Green Light.
For a variety of materials to publicize and support your Green Light efforts, visit NACo's resource hub.
Staff picks