Legislator Q&A: Sen. Jim Ananich
This article originally appeared in the April 2020 edition of Michigan Counties.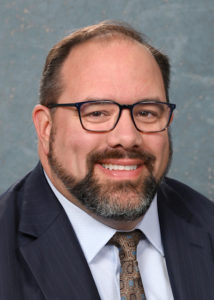 Name: Sen. Jim Ananich
District/counties: 27th/Genesee County
Committees: Government Operations
Term #: 2nd full term
Previous public service: Michigan House of Representatives, 2011-2013; Flint City Council, 2005-2009
What is the most pressing issue facing Michigan now?
COVID-19 is at the front of every Michiganders' mind right now and that is certainly the most serious issue facing us right now. The spread of this virus has touched every aspect of our daily lives. Huge sectors of Michigan's economy have come to a direct halt, and in the coming weeks and months, the state government will aggressively be pursuing ways to ensure residents have access to the resources they need to recover from this. We will remain diligent partners with those at the federal and local levels as well as the governor's office until we're out of the woods. Michiganders are tough and we're going to get through this together. 
Based on your experience, how important are counties to the effective delivery of public services?
As we've seen in real time over the past weeks and months, counties have been extremely important leaders in the response to the coronavirus. County health officials have been on the front lines working to mitigate the spread and communicate updates to residents.
County work behind the scenes is just as valuable as their work in the face of a crisis. I have worked with so many effective local officials on critical issues ranging from Flint water to expanding health care and environmental protections.
As the Senate minority leader since 2014, what are some of the key leadership skills you have developed during your time in the position? 
I learned at the very beginning that you have to assume that other legislators are acting in good faith, no matter how strongly you disagree. Too often in Lansing I've seen folks threaten to take their ball and go home if others don't accept their mandates. That doesn't lead to good results for anyone. I always say, "Let's start where we can agree and work from there."
The Joint Task Force on Jail and Pretrial Incarceration specifically mentioned the Genesee County jail as an example for extraordinarily long pretrial jail stays — sometimes over 2 years —due to a variety of reasons from the complexity of cases to backlog of mental health services and bed availability. In your view, how can the state help counties in combating this problem and ensuring a mental health infrastructure that supports the needs of this vulnerable population?
 The Joint Task Force received input from sheriffs and stakeholders across the state, and it is now clearer than ever that we cannot continue using jails as a substitute for mental health services. We need more support for substance abuse and mental health programming, and to help drive down our jail populations, we need to have a serious conversation about bail reform. We can also consider alternatives to jail for non-serious misdemeanor offenses; the task force found that 60% of jail admissions in Michigan are for misdemeanor offenses, whereas nationally misdemeanors only account for about one-fourth of jail admissions. There is a lot of work to be done to address these complex problems, but the task force has given us a road map with some great first steps. Every year I fight for more resources for the Genesee County Jail, and I'd like to commend the staff there for doing the best they can with the limited resources they have.
Clearly investing in our state and local roads and bridges has been a priority for the Governor and Legislators, as well as our county elected officials.  A long-term funding solution has yet to be agreed upon by all necessary leaders. Do you think 2020 is the year an agreement will be reached?
Time is of the essence. Every day that this legislature fails to find a long-term road funding, roads get increasingly more expensive to fix and dangerous to drive on.  Finding a solution that works for Michigan drivers is doable. There's no shortage of ideas but the only path forward to a solution is by working on it together.
The voters hired us to solve Michigan's toughest problems, not just the easy ones. Driveable roads, affordable health care, quality education for each child, good job opportunities and clean water—these are our priorities that we think everyone should be able to agree on.