MAC joins with state on Futures for Frontliners campaign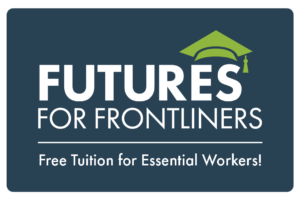 County frontline workers put their own health at risk during the worst of the pandemic. That's why Michigan has created Futures for Frontliners – to offer essential workers like you the opportunity to attend school tuition-free full-time or part-time while you continue to work. MAC is pleased to partner with the state and others on this initiative.
Who's eligible? All essential workers in Michigan without college degrees or high school diplomas or
equivalency who staffed our hospitals, nursing homes, and grocery stores, who cared for our children,
provided critical police and fire services, delivered our food, picked up our trash, manufactured PPE, and
other key jobs during the April-June period that kept our state running.
The application for seeking a college degree or certificate, attaining your high school diploma or
equivalency, and additional program information are available now at Michigan.gov/Frontliners, with
enrollment in classes available beginning January 2021.
Please share this information with your county employees.