May 11 webinar will review Michigan 'wellness report'; tips for county leaders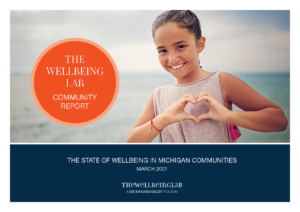 Are you starting to feel like the hardest part of the global pandemic may be behind us?  As vaccines begin rolling out around the world and glimpses of normal life start returning, we've been wondering what impact all of these changes might be having on people's wellbeing.
So, this spring, researchers at The Wellbeing Lab headed out into Michigan to measure the well-being of 1,500 people representative of Michiganders to ask, "How are we doing" and delved into how people were boosting their levels of thriving and reducing their levels of struggle at this time. Survey data shows valuable forms of wellbeing support their families and community had been providing and what actions their workplaces and bosses were taking that were having a positive impact.
Want to know what was found?
Join us for a special event for our members, where Louis Alloro of The Wellbeing Lab will give highlights of the 2021 Michigan Community Wellbeing Report. Discover the roles struggle, psychological safety, families, allyship and vaccinations have played in helping people care for their well-being, and the practices you can implement in your own community. And we will discuss ways of intelligently applying these findings as a network.
Use this link on May 11 at 10:30 a.m. to enter the webinar.
Louis Alloro is social entrepreneur creating and facilitating highly sought after, evidence-based learning experiences helping teams and entire organizations and communities dig deeper and reach higher, thereby creating a collective impact. Since 2018, he's collaborated with the Michelle McQuaid group in creating content for The Change Lab and The Wellbeing Lab. Since 2008, he has trained and certifies thousands of practitioners, companies and communities in applied positive psychology and wellbeing science, including cohorts from Midland, Mich., who he helped form a regional Wellbeing Coalition.