Michigan Supreme Court rejects Cameron case threatening court costs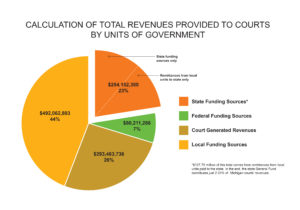 A legal challenge to Michigan's law on local court costs was turned aside July 10 by the Michigan Supreme Court.
The court declined to take up a decision in People v. Cameron from the Michigan Court of Appeals that deemed state law authorizing court costs constitutional.
This decision removes an immediate threat to a key source of funds for Michigan's trial court system, whose operations constitute the largest unfunded mandate on counties. But legislative action is needed soon to establish a stable funding structure for our courts.
Figures compiled by MAC show that local and court funds constitute more than $900 million for the trial court system, with purely state and federal funds covering about $200 million.
In a concurrence to the order rejecting the appeal, Chief Justice Bridget Mary McCormack wrote, "I recognize that denying leave to appeal in this case will allow our current system of trial court funding in Michigan to limp forward — at least until MCL 769.1k(1)(b)(iii) sunsets next year. Yet our coordinate branches have recognized the long-simmering problems. The interim report of the Trial Court Funding Commission shows a potential way forward that promises to address these (and other) concerns. I urge the Legislature to take seriously the recommendations of the Commission, before the pressure placed on local courts causes the system to boil over."

With an eye on the then-unresolved Cameron case, the Trial Court Funding Commission (TCFC) released an interim report this spring with five recommendations, including a dedicated trial court fund, more equitable funding across courts, uniform assessments and centralized collections to free court personnel from non-court operations.
MAC supported the creation of the commission and supports its recommendations to ensure a more balanced funding system between state and local governments, more streamlined court operations and separating judicial decisions from operating budgets to improve administration of justice.
"The key point out of this week's order is that the chief justice is pointing to the commission's recommendations and this is why we need to ensure the Legislature solves this before the expiration of current law allowing these costs," said Stephan Currie, MAC's executive director.
MAC will continue to monitor the progress of the commission and advocate for a fair cost structure that does not expand any unfunded mandates on an already underfunded system.