New report finds most Michigan counties in a 'fiscal gap'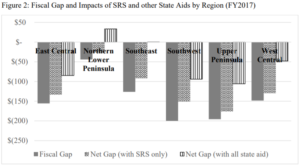 Almost 60 Michigan counties lacked the financial resources in 2017 to cover the public services they need to provide, even after accounting for state aid such as revenue sharing, says a new analysis from a Michigan State University professor.
Shu Wang, an assistant professor at MSU who has presented at MAC on local government finance issues, compared a county's revenue-raising capacity (RRC), its expenditure need and its state aid in the years 2011 and 2017 to assess the "fiscal gap." While 24 counties did not show a gap in 2017, after adjusting for all county and state resources, 59 did, with the largest problems concentrated in the Upper Peninsula and Southwest Michigan. (See full county-by-county results here.)
The report states the "main drivers for counties' needs are violent crime rate, population density and distribution, and employment in the manufacturing industry."
MAC spoke with Dr. Wang this week to learn more about the report and what Michigan counties face fiscally:
What finding surprised you the most?
Wang: "I don't have preconceived assumptions so can't say any result to be surprising. Rather, I'd share a few noteworthy points. One is the different equalizing effects of state revenue sharing (SRS) and other forms of state aid. Figure 2 (above) shows SRS does not close fiscal gap as much as other state aids. From a policy standpoint, SRS has some sort of formula, whereas other state aids are more difficult to track or to structure. Counties may want to further investigate the roles played by other aids from state in addition to SRS.
"A second point is variations of fiscal gap between regions and within regions. Again, figure 2 shows the northern Lower Peninsula has a small fiscal gap to begin with, and additional state support actually creates a fiscal surplus, whereas the Upper Peninsula still has a wide gap after all state support. In terms of within-region variation, Oakland and Wayne counties in the southeast can have quite different challenges. The fact that state support seems to close fiscal gap for that region shouldn't mask their differences."
What is the greatest misconception about county finances right now?
Wang: "It largely depends on who we talk to. I'd like to remind officials (or general public) not to overestimate the role of property taxes. I don't mean to discount the fact that it is the most stable major revenue source; however, due to prop A the taxable values have remained stagnant. Counties levy a lower mill and raise millage less frequently than cities, and that further limits their revenue-raising capacity from properties."
What's the no. 1 thing that county leaders should be doing to drive reform in financing?
"I'd suggest not to be tempted into easy, oversimplified formula such as dollars per capita. It is important to understand the structural needs faced by each county, including structural deficits, unfunded mandates and underlying socioeconomic issues that are driving county spending. While doing so counties should also pay attention to how state policies contribute to addressing these needs and affecting their revenue-raising capacity. This is largely what motivated my study. Fiscal gap is a thought exercise for understanding these issues. Just like treating a disease, fiscal distress is a symptom and county leaders as doctors should focus on the cause for the symptom."