Regional Summits will feature court funding, economic development briefings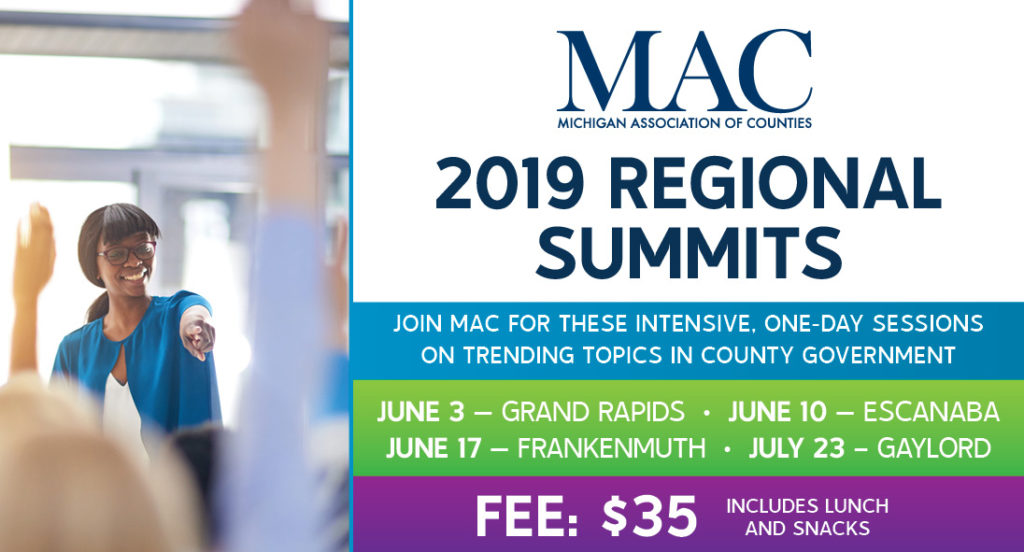 Commissioners and other county leaders can network with legislators, learn tips on drafting capital improvement plans and be briefed on cutting-edge economic development tactics at a MAC Regional Summit this summer.
As usual, MAC will offer the summits at four sites across Michigan:
June 3 – Grand Rapids (Crowne Plaza)
June 10 – Escanaba (Quality Inn)
June 17 – Frankenmuth (Bavarian Inn)
July 23 – Gaylord (Otsego Resort)
"Summits are designed to maximize a commissioner's limited time by giving a series of briefings on key subjects in a single day," explained Stephan Currie, MAC's executive director. "Schedules also allow for plenty of questions so county leaders really can dig deep into a topic with our experts drawn from state government, the nonprofit world and the legal community."
Topics to be covered at all four sessions include:
County Commissioner Academy: Planning a Capital Improvement Program
Tackling Blight and Economic Development Tools
Funding Michigan's Trial Courts
Each site's program will begin with a legislative breakfast mixer. MAC is inviting legislators from the region surrounding each site to foster relationships with their county counterparts.
The summit will run from 8:30 a.m. to 2:30 p.m.; a light breakfast and lunch will be included for the $35 fee.

Enbridge to present at Escanaba Summit

Energy company Enbridge will make a special presentation during lunch at the June 10 Regional Summit in Escanaba, focusing on the company's proposed tunnel project under the Straits of Mackinac and upcoming work throughout Michigan. In 2017, 35 of Michigan's 83 counties received approximately $60 million in property taxes from Enbridge.
Space is limited at some sites, so please reserve your slot today!
Tags: Currie, Enbridge, Regional Summits