Registration ends Monday for 2020 New Commissioner Schools

To aid newly elected commissioners, and promote continuing education among veteran ones, MAC again is partnering with MSU Extension (MSUE) for the biennial New Commissioner Schools.
Registration ends Monday, Nov. 15 for this year's series, which will be the first all-digital series in the event's history.
"The value of these sessions for commissioners, new or not, is tremendous," said Stephan Currie, MAC executive director. "We work closely with MSUE on content to ensure its direct application to the challenges and opportunities that commissioners encounter every day."
With the digital format, sessions will open Nov. 12 and not conclude until mid-December, allowing attendees a great deal of flexibility on dates and times. In addition, registrants will have 24/7 access to previously released sessions – what MSUE calls "self-paced, asynchronous learning."
MAC's Currie will offer taped remarks to registrants, and MAC is sponsoring the segment on the Open Meetings Act, a particularly salient issue right now, led by Matt Nordfjord of the firm of Cohl, Stoker and Toskey.
Full details on the schedule of sessions can be found here. 
Registration for the event, which carries a $95 fee, starts here.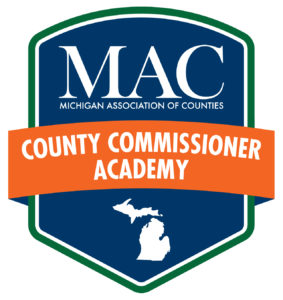 Also, commissioners and commissioners-elect earn credits in MAC's County Commissioner Academy (CCA) for their participation in the New Commissioner Schools.
CCA operates on a two-year sequence, starting after an election. Participants earn continuing education "hours" by attending designated events and workshops. "Certification" is offered at two different levels: "Certified" is reached at 10 hours over a two-year cycle, while "Advanced" is reached with 20 hours over a four-year period. "Hours" will not be limited to MAC events. Commissioners can earn credits via attendance at MSUE-sponsored events or even sessions hosted by the Treasury Department or elsewhere.
A New Commissioner School equates to 5 credit hours, for example.
"We strongly encourage all members to consider these sessions," Currie said, "and we look forward to seeing everyone online."