Whitmer makes roads pitch at 2019 Legislative Conference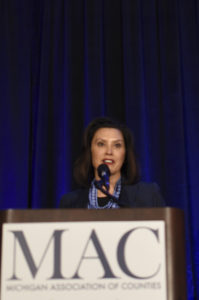 More than 300 county leaders from across Michigan heard Gov. Gretchen Whitmer make her case for increased infrastructure funding, arguing that Michigan must fund such work "at the pump."
Whitmer made her comments during her keynote address to the conference on Tuesday, March 26 at the Lansing Center.
"On behalf of our members, I thank Gov. Whitmer for giving so generously of her time to talk to us this week about the challenges facing Michigan, particularly road funding," said MAC Board President Ken Borton of Otsego County. "As front-line elected officials, county commissioners know all too well the frustrations of Michigan residents on infrastructure. We are eager to work with the governor and Legislature to find the necessary revenue and distribute it properly to get our roads back in proper shape."
See her presentation in the 2019 Legislative Conference Presentations folder of the MAC archives.
Tags: Gretchen Whitmer, Ken Borton, MAC