Legislative Update 5-1-20
Governor extends State of Emergency, court battle looms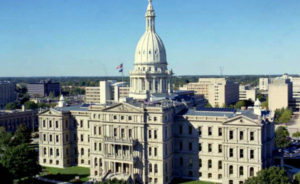 Gov. Gretchen Whitmer signed new Executive Orders Thursday night to extend Michigan's State of Emergency and Disaster Declarations until May 28.
EO 66 terminated the previous State of Emergency (SOE) order that expired April 30. EO 67 states that Michigan remains under an SOE via the Emergency Powers of the Governor Act of 1945, which, unlike the Emergency Management Act of 1976, has no time limit on a declaration and no requirement for the Legislature to extend the declaration. The governor also issued EO 68, which declares the new State of Emergency and disaster under the Emergency Management Act through May 28.
Also, limits on places such as bars, restaurants and theaters are extended for the duration of the SOE under EO 69. The order continues to allow businesses to offer food and beverage using delivery service and takeout services.
Meanwhile, Republican majorities in the Legislature adopted HR 250 (Rep. Hernandez R-St. Clair) and SR 114 (Sen. Stamas, R-Midland), which authorize legal action on behalf of each legislative chamber against the governor for taking steps to extend the SOE.
With a court fight looming, Gongwer News Service reported, "Not only do several attorneys who have worked in state government for both parties say the Emergency Powers of the Governor Act clearly empowers the governor to put the state under an emergency and issue necessary rules and orders to address the situation without legislative approval, there's also a theory that Ms. Whitmer could simply issue a new declaration under the Emergency Management Act with that declaration good for 28 days with nothing the Legislature can do, as long as she can point to new circumstances."
In other actions on Thursday:
The Legislature sent Senate Bill 858 to the governor, which codifies some EOs issued for various dates between April and July, while not addressing six of the governor's orders, including the Stay at Home order. Bars, restaurants and other similar businesses would be able to open on May 16 under the legislation. Other key orders that would continue under the bill include protocols for prisons and jails (EO 62 through July 30) and restrictions for nursing homes and other long-term care facilities (EO 50 until July 30). The governor announced she intends to veto this bill.
The House passed House Bill 5709 (Rep. Sheppard, R-Monroe), which would make disobeying a rule, order or directive issue by the governor a civil infraction, rather than the current misdemeanor, and allowing a fine of up to $100. The bill specifically says the statutory fine would take precedence over language of any order stating that the violation would constitute a misdemeanor.
< div id="federal">
NACo leader touts '3 T's' and 'guardrails' for next federal rescue bill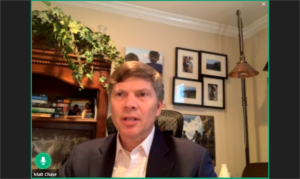 In final event of 2020 Virtual Legislative Conference, the head of the National Association of Counties urged Michigan leaders to contact their members of Congress to back a "CARES Act 2.0" measure that would include $125 billion in direct aid to counties.
Matt Chase, NACo executive director, said the U.S. House is expected to take the lead on the bill. "Bipartisanship support for local aid is building," Chase said. "But we need to keep up the pressure."
Chase said NACo's message to Congress centered on two themes right now:
Focus on the 3 T's of testing, tracing and treatment
Counties want "guardrails, not third rails," a response to criticism by some lawmakers that local governments want to use COVID funds to handle longstanding and unrelated fiscal issues, such as pensions
Chase said NACo supports the creation of a federal ombudsman or rapid response team in the 2.0 bill to give counties immediate answers on whether a specific use of federal funds was appropriate. "We are totally for accountability."
The discussion was the final event of MAC's two-week Virtual Legislative Conference, launched after the association was forced to cancel its traditional in-person event in Lansing. All eight virtual events can be viewed 24/7 by visiting the conference page on our website.
"Matt's comments were an excellent cap to our conference," said MAC Executive Director Stephan Currie. "We averaged 40 to 50 people viewing each event live, and we know far more will view them at their convenience later."
Maximize your use of MAC's heat map to track COVID's advance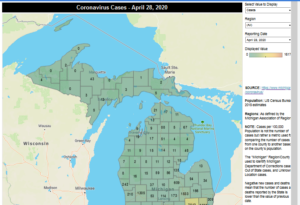 MAC members are encouraged to regularly visit micounties.org to use the COVID tracking heat map put together for us by Munetrix. The map has many features of which members may not be aware.
For example, using the cases per 100,000 residents function (see images), you can see the advance of COVID while adjusting for population. Some notable results in this feature:
Otsego and Crawford counties have rates approaching 400 cases per 100,000 residents
Shiawassee, Hillsdale, Tuscola, Lapeer, St. Clair, Iosco and Alpena counties are near or over the 200 cases per 100,000 residents rate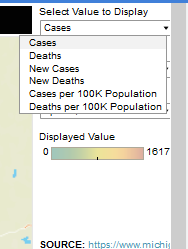 The highest county rate remains Wayne with 1,783 cases per 100,000 residents; five UP counties (Alger, Baraga, Iron, Keweenaw and Ontonagon) show a rate of 0 cases, when adjusting for population. (All figures are from the state's April 30 report.)
In related news this week:
AP and Crain's Detroit both reported that four rural counties — Arenac, Branch, Lapeer and Mecosta —had ICUs that were at 100 percent capacity on Monday.
Crain's Chad Livengood noted on Thursday, "In the past 10 days, there's been a 169% increase in positive cases in Kent County, +230% in Ionia County, +133% in Allegan, + 85% in Muskegon, +97% in Kalamazoo, +57% in Branch, +54% in Calhoun, +51% in Berrien (and) +48% in Van Buren."
A University of Maryland tracker on social distancing has shown a clear downward trend for Michigan: On March 30, Michigan scored a 64 out of 100 on its index, which "represents the extent residents and visitors are practicing social distancing." On April 13, the score had risen to 66. Since then, Michigan has seen a steady decline, hitting 57 on April 20, 52 on April 27 and 48 on April 28 (last date available).
For more information on MAC's heat map, including the software code if you wish to embed the map on your own county's website, contact MAC's Derek Melot at melot@micounties.org.
MAC sets May 6 webinar to aid counties on return-to-work plans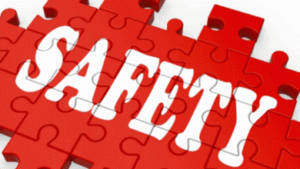 Counties continue their planning to return more employees to on-site operations. In a webinar on May 6, experts from the Michigan Municipal Risk Management Authority (MMRMA) will walk participants through MMRMA's COVID-19 Model Response Plan and then take questions from MAC members.
To pre-register for this event, click here.
After registering, you will receive a confirmation email containing information about joining the webinar.
Wave of property tax forgiveness bills hits State Capitol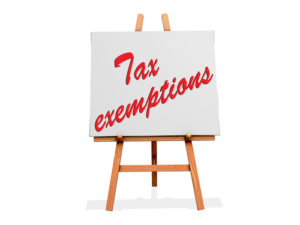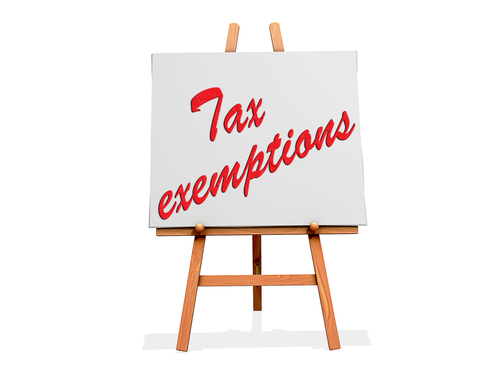 With 25 percent of Michigan's work force unemployed and continued uncertainty about when the state will reopen, legislators are advancing property tax relief measures that would affect counties: 
County governments, while always seeking to make payment arrangements so owners can stay in their homes, rely on the approximate $15 billion in property taxes collected each year to provide the services our communities require. Losing these revenues for extended periods would inevitably put more pressure on county budgets and create serious cash flow issues.
Additional grace periods for foreclosures due to access issues with county offices are workable in the short term, but an overall exemption for taxes for any period of time is not; removing penalties for non-payment of taxes that sweep in residential and commercial properties regardless of hardship would cripple county revenues.
MAC opposes HB 5705 and is carefully studying the other measures.
For more information on this issue, contact Deena Bosworth at bosworth@micounties.org.
Return of construction work has counties staffing up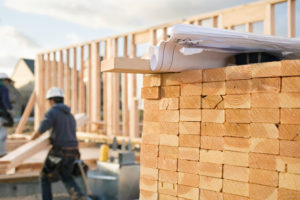 With an Executive Order expected at any time to allow for most construction work to resume during the State of Emergency, county leaders across Michigan are pulling in staff to ensure building departments are ready for regulatory and permit requests
A flood of requests is expected on May 7, the expected date of the easing of restrictions on the industry.  
Some counties have asked staff to return to work already in order to prepare. Many administrators and building department staff are working on formalizing protocols: some counties will interface with the public by appointment-only, while some will open the county building and follow social-distancing protocols and require face masks.
So far, at least 12 counties have confirmed plans to resume building inspections by May 7. 
Enbridge moves ahead with Line 5 permitting process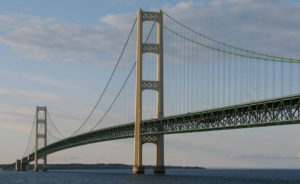 Enbridge has filed a new state permit application with the Michigan Public Service Commission (MPSC) that would allow work to begin sooner on the tunnel that will house the Line 5 pipeline under the Straits of Mackinac.
The energy firm is seeking a declaratory ruling from the MPSC it already has the authority to relocate the pipeline to the new tunnel, which would sidestep a lengthy approval process that could take an additional year. MPSC is now holding two weeks of public comment, which opponents of the pipeline say is an attempt to diminish public input on a controversial topic during a global pandemic. Representatives from Enbridge say they are working to stay on the schedule that was agreed to in 2018 under Gov. Rick Snyder and "have been communicating with state and federal agencies to ensure we remained aligned in terms of the timing of this application."
This comes weeks after the U.P. Energy Task Force, created by Executive Order by Gov. Whitmer, released an initial report outlining alternatives to Line 5, such as increasing propane reserves, utilizing railroad lines, and more.
The public comment period for Enbridge's request ends May 13.
For more information, contact Michael Ruddock at ruddock@micounties.org.
18 mental health entities get federal help under Stabenow bill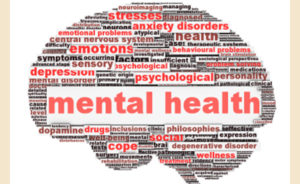 Eighteen Michigan community mental health organizations have been selected as Certified Community Behavioral Health Clinics, U.S. Sen. Debbie Stabenow announced this week. Michigan will receive $54,452,014 in new funding for the clinics.
Stabenow's announcement is a result of the passage of the "Excellence in Mental Health and Addiction Treatment Act," which she sponsored.  Stabenow discussed this important legislation and upcoming funding with Michigan county leaders during a MAC-sponsored briefing with her in March on Capitol Hill.
The Community Mental Health Association of Michigan, a MAC affiliate member, praised Stabenow's efforts in support of continued funding for Certified Community Behavioral Health Clinics (CCBHC):
"The recent SAMHSA announcement totaling over $54 million designates 18 Michigan organizations as CCBHC sites. Some of these sites are current CCBHC sites who have received continuation funding; some are newly designated CCBHC sites. These funds will allow those organizations to provide much needed community-based and integrated services for the people in their communities at a time when service demands are at an all-time high."
For more information, contact Meghann Keit at keit@micounties.org.
Staff picks