Legislative Update 9-16-22
County leaders gather in St. Clair County next week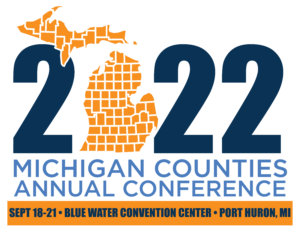 The installation of Kent County's Stan Ponstein as MAC's 114th Board President is one of many highlights planned for the 2022 Michigan Counties Annual Conference, which begins Sunday, Sept. 18 in St. Clair County.
MAC, along with partner Michigan County Medical Care Facilities Council (MCMCFC), will set up shop in the county's Blue Water Convention Center along the shores of the St. Clair River, just south of Lake Huron. On Monday, Sept. 19, attendees will be welcomed by former St. Clair commissioner Howard Heidemann, who was tireless in his efforts to convince MAC to visit his county and use the facility.
Serving as master of ceremonies for the event will be current MAC Board President Phil Kuyers of Ottawa County.
Plenary events include panels on the current challenges in broadband expansion, the energy industry's impact on and future in Michigan and the biennial MAC Legislative Update from Governmental Affairs Director Deena Bosworth and State of MAC report from Executive Director Stephan Currie.
The conference also will provide 12 policy breakouts designed for MAC attendees and specialized workshops for MCMCFC members, who can earn Continuing Education credits.
"The past two weeks have been a bit of blur, of course, as all of the numerous details for the conferences are worked out," said Currie. "We think we are ready. We are excited to have St. Clair County host us. And we hope everyone has a good time."
County leaders who have not registered can do so at the conference site beginning on Sunday at noon. MAC is advising that hotel space remains available, too (though not at the special conference rates).
Commissioners attending the full conference also will perform their duties in choosing MAC Board directors for five seats (1 at-large, 1 in Region 5, 1 in Region 4 and 2 in Region 6) and review and approve MAC's policy platforms for 2022-23.
The culminating event for the conference will be the President's Banquet on Tuesday, Sept. 20, sponsored by Blue Cross Blue Shield of Michigan, where Ponstein will give his inaugural address.
For information on conference activities, click here or email conference@micounties.org.
MAC recognizes Lenawee on its bicentennial
Executive Director Stephan Currie had extra duties this week as he arrived at the Lenawee County Courthouse in Adrian.
In addition to making one of his regular "County Visits" to brief members on MAC's advocacy, educational and business services, Currie also delivered a Proclamation of Tribute from MAC to the county on its 200th anniversary.
"On Sept. 10, 1822 by order of Michigan Territory Governor Lewis Cass, and five years after Monroe County was divided from Wayne County, the expansive state border land was split further to the west to form Lenawee County," states the county's bicentennial webpage. "The county had rolling hills and deciduous woods to the north, the Great Black Swamp to the south and east. Lake after lake dotted the northern boundaries of Lenawee County, a name derived from the local indigenous word for 'man.'"
After his appearance before the Lenawee Board, Currie also had time to tour the county's old courthouse, refurbished at the cost of about $8.8 million earlier this year.
MAC offices will close for conference
MAC offices in Lansing will be closed Sept. 19-21 and Sept. 23 due to 2022 Michigan Counties Annual Conference. The MAC offices will be open on Thursday, Sept. 22 from 8 a.m. to 5 p.m.
Staff picks